In response to Russia's invasion of Ukraine, the European Union (EU) has started trying to wean itself off of Russian energy. This is no easy feat, considering Russia provides about 35 percent of the EU's natural gas supply.
The EU doubled down on May 4th, announcing its intent to completely ban imports of Russian oil and refined petroleum products within the next six months. To achieve this ambitious goal, the EU will need significant help from international allies.
In late March, the White House announced a joint task force with the EU focused on reducing dependence on Russian energy with an immediate emphasis on securing energy (read: heat) for the upcoming winter, but it also addresses deals and measures that could affect European energy for a decade.
The task force announcement identified two crucial goals it will be working toward:
1. Diversifying natural gas supplies to the EU, which means securing gas from countries other than Russia (such as the U.S.)
2. Reducing demand for natural gas in the U.S., by displacing it with other forms of energy, thus increasing the supply of gas available for Europe
There were some specific policy actions mentioned in the announcement. For example, the EU has announced plans to replace inefficient home heating systems in Europe with smart thermostats and heat pumps, saving about as much natural gas as the U.S. is pledging to send. President Biden has also allocated $6 billion to keep America's nuclear plants from shutting down, a key step in replacing domestic natural gas consumption with reliable, carbon-free energy.
But there are still plenty of details to be filled in, which is what The New Center aims to do below. Although the most consequential steps the United States can take revolve around making it easier to produce and transport American natural gas, several more steps to boost other energy sources are essential too. Here is what it will take to significantly reduce the EU's reliance on Russian energy.
Increasing natural gas storage and supply
1. Fill EU natural gas reserves.
Context: The EU directed its members to fill their natural gas storage to 80 percent capacity by November 2022, but the International Energy Agency recommends filling them to 90 percent. Stockpiling would increase the supply of natural gas available in the upcoming winter when demand peaks (for heating). It would also increase demand for natural gas right now, which should incentivize more producers to sell to Europe. 

Action Item: Members of the EU should fill their natural gas strategic reserves as much and as quickly as possible. 

Timeline: Members have until November 2022 to complete this and the benefits of increased supply would be felt throughout the winter and early spring of 2023.
2. Federally guarantee loans for natural gas export terminals.
Context: There are roughly a dozen liquefied natural gas (LNG) export facilities in the U.S. that have earned regulatory approval but still lacked funding as of March 25th. Building more terminals would reduce shipping bottlenecks and ultimately deliver more energy to Europe, but some private lenders are worried about the uncertain regulatory future of natural gas and are hesitant to invest. 

Action item: The federal government should guarantee loans made to LNG export terminals. This would encourage private funding by reducing risks for investors and acknowledge that the U.S. and the world will need significant quantities of natural gas for years to come, even as we continue to deploy renewable energy sources.

Timeline: There are seven proposed LNG terminals whose developers are expected to make a Final Investment Decision and begin construction in 2022. By comparing these projects to existing terminals, we can make rough estimates of when and how big their impacts will be. If all seven proposals are completed at similar rates as the existing terminals, America's export capacity would increase by around 42 percent by the end of 2025, from 76.5 million to 109 million tonnes per year. Once the larger projects are completed around 2027, the new export capacity could be over 160 million tonnes, more than doubling what we export today. 
  Existing US Natural Gas Export Facilities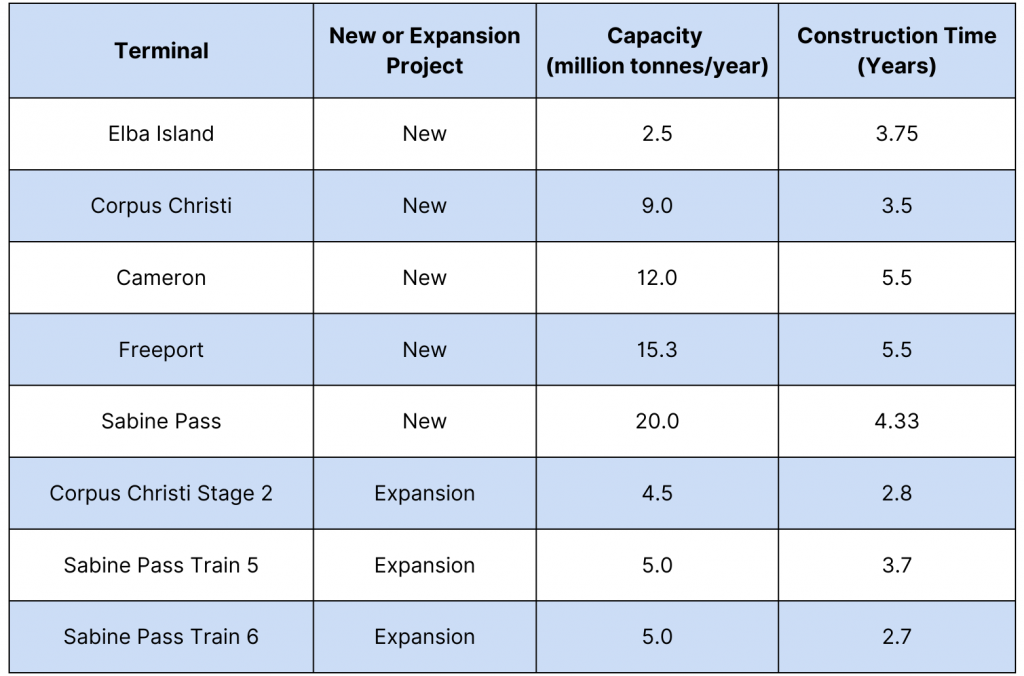 Proposed US Natural Gas Export Terminals, 2022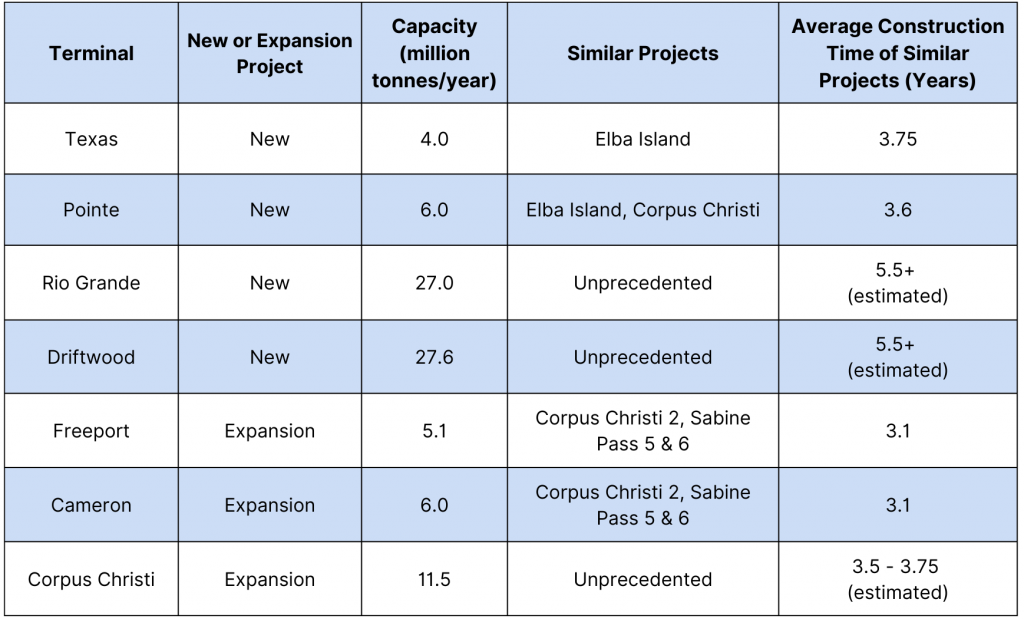 3. Abolish the Jones Act.
Context: The Jones Act is a century-old law passed by Congress requiring that cargo ships be fully manufactured in the U.S. to sail from one American port to another. As of 2019, there were zero American-made ships able to transport large amounts of natural gas. As a result, moving natural gas around the U.S.—including to liquefaction and export facilities to be shipped to Europe—requires pipelines, trains, and trucks, which are all more costly and time consuming. 

Action Item: Congress should repeal the Jones Act, or at the very least the Departments of Defense or Homeland Security should issue Jones Act waivers for natural gas tankers.

Timeline: Colin Grabow, a trade policy scholar at the libertarian Cato Institute, predicted to The New Center that energy markets would react quickly to Jones Act reform. He acknowledged that many industrial tankers are signed to multi-year contracts, so it could be another two to three years before the full extent of the benefits are realized. But even before then, he suggests oil and gas producers could quickly begin lowering costs, maintaining production, and operating more efficiently without Jones Act barriers.
4. Promote drilling on federal land.
Context: The Department of the Interior recently announced it would resume selling leases for oil and gas production on federal lands, but at higher royalty rates than previously charged and with 80 percent less land available for drilling. This will discourage domestic oil and gas production and raise prices for consumers. And making federal land off limits to energy exploration will not meaningfully advance the fight against climate change. Demand for oil and gas would inevitably be met by other countries, many of which have weak or no environmental standards compared to the U.S.

Action item: The administration should delay increases in royalty rates and changes to drilling policies at least until after the European energy crisis subsides.

Timeline: New drilling operations would take six months to a year to noticeably affect America's energy supply.  
5. Streamline regulatory approval for new drilling operations.
Context: The National Environmental Policy Act (NEPA) is a 1970 law requiring strict climate-focused reviews for any projects seeking approval. The "Environmental Impact Statements" required by NEPA average over 500 pages in length and take five years to produce. The Bureau of Land Management (BLM) takes 120 days to respond to drilling applications, while comparable state agencies take just ten days as they are not bound by the same NEPA red tape. Further, President Biden is reinstating certain NEPA rules (loosened by the Trump administration in 2020) that give regulators more leeway to reject proposals by calculating the project's "indirect effects" on the climate. 

Action Item: Congress should limit environmental impact statements to 250 pages and ensure that FAST-41—a bipartisan reform that established a two-year timeline for NEPA approval and created a taskforce to guide projects through the application process—is appropriately enforced. In the meantime, the Biden administration should maintain the 2020 reforms to NEPA.

Timeline: Even if NEPA were reformed today and FAST-41 were properly enforced, it would still take up to two years to earn approval for new drilling operations and another year after approval before new drilling would affect America's supply. This is a long-term reform with long-lasting benefits.
Displacing natural gas use in the U.S.
1. Expand PACE to encourage private adoption of clean energy.
Context: The Property Assessed Clean Energy Program provides upfront financing for clean energy systems on private property that owners pay back over time. Only 28 states and Washington, D.C. have active PACE programs, and only three apply to residential property.

Action Item: The Department of Energy should tie State Energy Program grants to requirements that recipients implement or expand PACE laws to all consumers. 

Timeline: A 2020 study from the University of Southern California found that PACE programs in California saw modest increases in solar installations within two months of the programs starting, with larger gains starting around ten months and increasing until at least 24 months (when the study was concluded). 
2. Expand net-metering options to incentivize clean energy.
Context: Net-metering is a practice in which people who generate their own electricity via solar power can sell their excess energy back to the grid. These customers are typically compensated in credits on their monthly utility bills. Currently, only ten states allow net-metering.

Action Item: The Department of Energy should tie State Energy Program grants to requirements that recipients implement or expand net-metering laws. The requirements should preference net-metering programs that assess direct energy costs and overhead business costs separately, so as to not unfairly increase prices for those who cannot or will not switch to solar.

Timeline: A 2021 report to the California Public Utilities Commission revealed that the state's revamped net-metering program implemented in June 2016 modestly increased adoption by the end of 2016, with larger effects in 2017 that continued over time. The data is not broken down into months, but this roughly tracks with the data on PACE adoption in California.
3. End solar panel tariffs.
Context: In February 2022, President Biden extended tariffs the previous administration placed on imported solar power equipment through at least 2026. These tariffs have increased solar panel costs by an average of $600 per installation. 

Action Item: President Biden should rescind these tariffs, making cheaper solar panels available to Americans and thus encouraging solar power adoption. 

Timeline: It is hard to predict how long it would take for cutting tariffs to influence consumer behavior. Presumably it would take several months to a couple of years to show effects, as PACE and net-metering did. Once a consumer is convinced by lower prices, the average duration of the home solar installation process is three months.
4. Ease solar installation licensing requirements.
Context: 45 states require licenses to install solar panels. Most require a general electrician license, but some have specialized licenses a solar installer must obtain. 17 of these states plus D.C. do not allow other states' licensed professionals to practice within their borders. Licenses can cost hundreds of dollars and require thousands of hours of training, reducing the supply of contractors and raising costs for consumers.

Action Item: The Department of Energy should tie State Energy Program grants to requirements that recipients reduce fees for obtaining licenses and recognize licenses issued by other states. The Department should also provide model licensing legislation that upholds public safety without discouraging future contractors. 

Timeline: Most states require around four years of experience to earn an electrician license. Assuming they do not reduce these requirements, it would presumably take more than four years before the contractor supply is noticeably affected. The benefits from allowing professionals to work across state lines could be seen much sooner although the impact would presumably not be as large.
5. End anti-solar zoning laws.
Context: Non-hardware costs (those associated with zoning and permitting) make up two-thirds of residential solar costs. In far too many states and localities, it is too expensive and time-consuming to deal with convoluted processes to get permission for home solar panels. Some municipalities and HomeOwners Associations (HOAs) can further restrict or forbid rooftop solar panels. 

Action Item: States' Departments of Energy should provide straightforward information to the public on solar zoning and permitting rules as well as guides to complying with them to reduce hassle for contractors. States should also pass Solar Access Laws that protect peoples' right to collect the sunlight that falls on their property. 

Timeline: It would presumably take a few weeks or months to produce these guides and enact the necessary policy changes, plus another three months to install solar panels for early adopters. The impact would likely continue to grow over time as price reductions convince more consumers to switch to solar.
Ultimately, there is no single policy step that will enable the European Union to end its reliance on Russian energy. But together, these policies—to expand U.S. natural gas exports and accelerate the adoption of cleaner energy sources—can help cut off the most important source of funding (and power) for Vladimir Putin and the Russian government.
The Department of Education has proposed changes to the federal Charter Schools Program (CSP) that many school reform advocates find alarming. The rules will make it harder for certain charter schools to receive federal funding, threatening to chill the charter movement. Specifically, officials want to require CSP beneficiaries to provide evidence of "unmet demand" for charters in their area, such as "over-enrollment at existing public schools" in order to receive funding. 
13 Republican senators signed a letter to Education Secretary Miguel Cardona criticizing this proposal, saying it would likely defund charter schools in big cities. They also note that the administration is not accepting charter school waitlists as evidence of demand, but rather focusing on the raw numbers of available schools. "Demand for charter schools is not just about the availability for any seat, but the demand for a high-quality seat," they explain. 
Earlier this year, the New Center published a proposal for 10,000 new charter schools in America over the next ten years. In it, we address charter school demand as well as the particular advantages of charter schools in urban environments. These excerpts can be useful in the newest charter school conversation: 
——
About 3.5 million students attend charter schools (out of 48.1 million total public school students), with another million on waiting lists (although this number could be somewhat inflated because one student can be on multiple waiting lists, or enrolled in one charter but on a waiting list for another). The National Association for Public Charter Schools estimates that demand for charter schools is almost three times higher than the current supply. This means five million more students would attend charter schools if one were more available to them.
Charter school supply is not meeting demand. According to the Thomas B. Fordham Foundation, the average number of charter school deserts per state is 10.8. They define a charter school desert as "three or more contiguous census tracts that have poverty rates greater than 20 percent but that have no charter schools." (Census tracts are regions defined for the purpose of taking a census, and they often coincide with city or town boundaries.)
This is a problem because it means students are missing out on the benefits charter schools have proven to offer. There have been several different studies in recent years attempting to measure the gains that students can make in charter schools versus traditional public schools, and most show charters consistently performing better, particularly in urban areas.
A Stanford University study found that charter students in 41 urban districts made learning gains equivalent to 40 additional days of instruction in math and 28 days in reading than their district peers
A Brookings study found that Boston charter students scored higher on standardized tests and were 43 percent more likely than their public school peers to attend a four year college
Professor Sarah Cordes found that New York City public schools boasted higher test scores when charters were nearby; the closer the charter, the higher the score
Another Stanford study found that increased competition from charters in Washington, D.C was associated with several additional weeks of learning gains in math and reading for local public school students.
——
The benefits of urban charter schools are concentrated among low-income and minority students. The proposed changes to CSP threaten to deny opportunity to children who would not have it otherwise.
The full version of our 10,000 Charters policy paper can be found here. 
During her confirmation hearings, Supreme Court nominee Kentanji Brown Jackson pledged to recuse herself from an upcoming case on affirmative action if she is confirmed as a new justice. Students for Fair Admissions alleges that Harvard—where Judge Jackson serves on the Board of Overseers—is violating the Civil Rights Act with its race-conscious admissions policies. This case has reignited a discourse on affirmative action that has existed in the U.S. for more than half a century.
In the majority opinion of the 2003 Grutter v. Bollinger decision, Justice Sandra Day O'Connor wrote: "We expect that, 25 years from now, the use of racial preferences will no longer be necessary" for universities to achieve diversity. Race relations in the U.S.—and the composition of the Supreme Court—have shifted dramatically since that case. Now, as the 25-year mark approaches and a potentially momentous decision is in sight, The New Center takes a look at affirmative action and the American people's perception of it.

Affirmative Action in Perspective
When American universities first implemented affirmative action in the 1960s, they did so in response to a pressing problem. Black students made up just 4.3 percent of college enrollment despite Black people representing 10.5 percent of the U.S. population. Black students represented 9.8 percent of college enrollment by 1975 but 11.7 percent of the U.S. population in 1980. But by 2019, the gap had narrowed to within a percentage point. Black people represented 12.6 percent of enrollment and 13.4 percent of the general population.
As diversity in higher education grows, affirmative action programs have evolved with it. Eight states have banned the consideration of race in college admissions, while another 11 states have no public universities that consider race. Only 19 percent of all public universities report considering race in admissions, yet 59 of the 100 largest private universities did so in 2015.
Americans (Likely) Don't Support Affirmative Action
In February of 2019, Gallup and Pew—two of America's most respected polling institutions—each released similar affirmative action polls that came to virtually opposite conclusions. In the Pew poll, 73 percent of respondents believed that universities should not consider "race or ethnicity in college admissions decisions." This included majorities of each race and each political party surveyed. By contrast, Gallup reported that 61 percent of respondents favored "affirmative action programs for minorities." Gallup notes this was the first time their poll found a majority of white respondents in favor of affirmative action.
Nate Cohn, a public opinion expert at The New York Times, wrote about this issue, "The polls don't tell a clear story. Some polls show that affirmative action is very popular. Others show that it's not popular at all. How pollsters pose the question is a critical factor." Cohn expands, "My best guess is that affirmative action is fairly unpopular. But… it's not clear that even a well-worded question would give us much insight…"
The abstract nature of this issue might explain why it is so hard to poll. "Affirmative action" does not reference any specific policy, but rather a range of practices which are designed to increase diversity and inclusion. But while polls have presented a mixed picture on affirmative action, the American people, in recent years, have spoken much more clearly at the ballot box on the issue.
Affirmative Action at the Ballot Box
Over the decades, voters have both created and abolished affirmative action policies through state ballot measures. But in the three most recent votes, Americans rejected affirmative action. The table below illustrates how many voters opposed affirmative action, either by voting to ban it (Oklahoma, Colorado) or rejecting an amendment to allow it (California, Washington). 2008 was the last time affirmative action "won" such a vote.

The biggest variable determining who does or does not support affirmative action—perhaps surprisingly—might not be race. According to one analysis of California's vote, a voter's level of education was the most significant demographic factor. Counties with more college-educated residents supported affirmative action at much higher rates than other counties.
The Court Protects Affirmative Action
The upcoming Students for Fair Admissions decision is just the latest installment of a long-running legal issue. The Supreme Court has heard nearly 30 affirmative action cases since the 1970s. Some of the landmark decisions include:
Regents of the University of California v. Bakke, 1978
The Court ruled that universities could not have "racial quotas" or a set number of seats reserved for certain races. But the Court confirmed that public universities could consider race in admissions to promote diversity.
Grutter v. Bollinger and Gratz v. Bollinger, 2003
The Court overturned the University of Michigan's "points system" that weighted race too heavily, emphasizing that affirmative action must be narrow in scope. But the Court reaffirmed the constitutionality of race-based affirmative action, but speculated that it might not be necessary 25 years after the decision.
Fisher v. University of Texas, 2016
The Court upheld Texas's use of affirmative action, which considered race among other factors to fill seats remaining after admitting the top ten percent of students from each high school. Texas's use was restrained in scope and came only after purely meritocratic factors.
While voters have had conflicting opinions on affirmative action, the Supreme Court has been relatively stable. The Court has consistently asserted the constitutionality of race-conscious admissions policies while striking down those that establish quotas, make race a primary admissions factor, or are otherwise not narrowly tailored. As a result, opponents of affirmative action have had to work through state legislatures and popular ballot measures.
But as the 25-year window after the Grutter case closes, the Supreme Court could break precedent and dramatically restrict or re-imagine affirmative action in the United States.
"Drain the Swamp" is a popular campaign line for a reason. Eighty-five percent of the public says corruption is a big or moderate problem and it's not hard to see why. Recent years have seen several examples of members of Congress trading stocks in industries they regulate, or appearing to trade based on non-public information (e.g. the onset of Covid-19). This may not technically be insider trading, but it does not seem ethical to many Americans either. Sixty-three percent of Americans now say members of Congress should be banned from trading individual stocks, and a growing group of bipartisan legislators agree.
Overall, Americans simply do not trust the government. As illustrated by the chart below from Pew Research, less than a quarter of people trust the government to do the right thing "just about always" or "most of the time," which is near historic lows. Meanwhile in a 2021 survey, the Project on Government Oversight—an independent government watchdog—found that 90 percent of Michigan and Ohio voters believed federal corruption costs taxpayers a lot of money. 

Stock trades by some members of Congress are certainly not helping bolster trust. From questionable individual trades to exorbitant overall returns, Americans have good reason to question Congress's investing practices. Here are some of the more troubling cases:
Even outside of the thoroughly scrutinized cases above, members of Congress have unusually high returns from investing. Unusual Whales, a financial information outlet, conducts an annual analysis of congressional stock trades using data available through STOCK Act (a law designed to create more transparency around members' investing) reporting and comparing it to historical stock market data. On trades in 2021, House Republicans and Democrats each averaged 14.7 percent returns, while Senate Democrats averaged 15.4 percent and Republicans averaged just under 13 percent. Over the same timeframe, the S&P 500—a large index fund and a bellwether for the broader stock market—saw 13.6 percent returns, meaning members of Congress beat the stock market on average. For context, around 90 percent of professionally managed mutual funds fail to beat the market in a given year. 
Stock market success does not necessarily indicate wrongdoing. No member of Congress has been charged with insider trading under the STOCK Act implemented in 2012. Former Representative Chris Collins was convicted of insider trading in 2020, but he was using information gained from being on a private firm's board of directors—which is beyond the scope of the STOCK Act. Nonetheless, this is a moment where even the appearance of impropriety hurts America's already-low trust in government. For this reason, Congress needs to go above and beyond to assuage Americans' concerns.
The STOCK Act Falls Short
The Stop Trading on Congressional Knowledge (STOCK) Act of 2012 banned members from investing based on non-public knowledge. It also required members of Congress, their senior staff, and high-ranking executive branch officials—including the President—to report all stock trades over $1,000 in value within 30 days, or 45 days if the trade was made by their spouse or a broker. Late disclosures result in a $200 fine that increases for subsequent infractions. 
But, according to Insider, "accountability and transparency are decidedly lacking" in the STOCK Act. A former investigator from the Office of Congressional Ethics told Insider that enforcement of the STOCK Act's disclosure requirements is "virtually non-existent," while a senior congressional aide said the Act's enforcement "depends on the honor system." Insider's investigation revealed that 54 members and 182 staffers have been late in reporting trades since 2020; only four of those members have provided proof of paying the late fees. 
Bipartisan Calls for Reform
Representatives Abigail Spanberger and Chip Roy—a Democrat and a Republican, respectively—are leading the charge to fix the STOCK Act. The duo's bill is called the Transparent Representation Upholding Services and Trust (TRUST) in Congress Act and would require all members of Congress to transfer their investment portfolios to a blind trust, where it would be managed by a broker without the knowledge of the member. Members would be allowed to invest in diverse index funds as well as bonds from the U.S. Treasury on their own, but all transactions involving individual stocks would be handled through the blind trust.
The TRUST Act would only apply to members of Congress and their households, but other recent reforms have limited the ability of other public employees to trade, too. In 2021, the Federal Reserve banned its officials and senior staff from investing in individual companies. In February 2022, the Senate passed a bill requiring Supreme Court justices and other federal judges to disclose their investments as they are currently exempt from the STOCK Act. Under the TRUST Act, the current restrictions for executive branch officials and senior staff would remain in place. 
Similar legislation has been introduced by Senators Jon Ossoff and Mark Kelly. Congressional leaders from both parties—Chuck Schumer, Mitch McConnell, Nancy Pelosi, and Kevin McCarthy—are all supportive of stock trading reforms too. 
A rare moment of bipartisan support combined with historically low levels of trust in government makes now the right time to reform congressional stock trading.
In recent days, President Biden has drawn ire from progressive activists for his cautious approach to student loan forgiveness and his plan to end the two-year pause on student loan repayments. Congresswoman Ayanna Pressley went so far as accusing Biden of "policy violence" during a slew of tweets demanding total student debt cancelation. The administration has now extended the repayment pause until May, but the President's initial instinct was right: with historic rates of federal spending and inflation, it is time for Washington to start making prudent choices. Rejecting blanket student loan forgiveness should be an easy choice given most of the benefits of this policy would go to well-off borrowers who do not need the help.
In 2020, the debt-to-GDP ratio in the United States hit its highest point since World War II. Today, the debt is still equal to 98% of the GDP. To make matters worse, inflation is at a 40-year high. Blanket student loan forgiveness would represent a new, significant fiscal burden. According to the Brookings Institution, canceling all federal student loans would cost $1.6 trillion. Canceling $50,000 per borrower, which Senators Elizabeth Warren and Chuck Schumer have proposed, would cost $1 trillion. These are massive expenditures that would dwarf twenty years worth of funding for other social support programs, as illustrated by the following chart from the Brookings Institution.
But the price tag alone is not what makes blanket student loan forgiveness problematic. Most people with student loans have a college degree and, unsurprisingly, are better off than the average American. The poorest 40% of households owe less than 20% of the student loan debt, and they make only 10% of all student debt payments. Additionally, a majority of the debt is held by people with postgraduate degrees, who earn significantly more than their less-credentialed peers. If Senators Warren and Schumer got their way, the poorest 60% of households would receive only a third of the benefits, as shown by the chart below. The rest would be concentrated among higher earners. 
If there is to be any student loan forgiveness, it should be targeted at those who need it the most. Biden and leaders at the Department of Education are pursuing plans to do just that. The Department's negotiated-rulemaking committee proposed forgiveness for certain cases, such as people with severe disabilities. This is a relatively small expenditure—roughly $6 billion for around 320,000 borrowers—that would ease the burden for people unable to work. The administration has also proposed a new, more progressive income-based repayment plan in which borrowers would pay a capped percentage of their income toward their loans, with graduated rates for higher earners. 
Total student loan forgiveness is too expensive and regressive. The administration should resist left-wing pressure and continue the more responsible policy of targeted student loan support.
Is the reconciliation bill, which can be found here, really a chance for America to Build Back Better, or is it a massive income transfer program to favored Democratic constituency groups? Unfortunately, it appears to be the latter.
Since our inception, The New Center has offered several ambitious policy solutions to reckon with climate change, healthcare, education, and other priorities addressed in the reconciliation bill. But far too much of the bill appears to funnel money to organized groups and constituencies that have lobbied for years for more government largesse. Perhaps that is why 39% of Americans believe the Build Back Better Act will have a negative impact on their lives while only 34% think it will be positive.
The bill does have some good ideas that will benefit a broad spectrum of Americans, but far too much of it just picks winners among favored Democratic groups or funds significant expansions of federal agencies.
The biggest winner is the climate lobby, which routinely donates tens of millions of dollars to Democratic campaigns. The Build Back Better Act hands the climate lobby $555 billion in subsidies in the name of combating climate change and adopting cleaner energy sources. In reality, the reconciliation bill will forcibly green the U.S. consumer, doing more to ensure Elon Musk stays the world's richest person than actually fight climate change. Under this bill, Americans will drive a more expensive and less practical electric car subsidized by the government. They will continue to live in the same houses with new, government-subsidized power systems. Billions of dollars will go to Environmental Justice Block Grants doled out to the exclusively Democratic constituencies that qualify.
Any serious effort to combat climate change would begin with the recognition that the United States is responsible for just 14% of global CO2 emissions. The single biggest contribution we can make, then, is developing breakthrough energy technologies that are affordable and scalable enough for developing countries like India and China to embrace. Yet the Build Back Better Act is instead full of provisions like this:
15003 includes $9 billion for farming programs that reduce greenhouse gas emissions, coupled with roughly $1 billion more to create climate hubs that offer technical assistance for climate change
30116 provides $5 billion to the EPA to dole out to localities for carbon emission reduction plans
30202 provides another $3 billion in "Climate Justice Block Grants" that go to projects in disadvantaged communities. There are no requirements that the selected projects actually reduce pollution
30412 allocates $6 billion in subsidies for homeowners to make their homes more sustainable
40009 provides $2 billion for climate-related improvements in rural rental housing
30444 sends $5 billion to the Department of Energy's fund for "low-carbon investments in energy communities"
50004 provides $500 million for "sustainability and environmental programs"
70201 earmarks $6 billion for coastal climate resilience programs
70301/05 spends $181 million to save endangered species
71201/71301 curtails domestic oil and gas leases, increasing dependence on foreign oil and raising the price of existing government leases
80007 provides the GSA with $975 million for "environmental sustainability programs"
80008 gives the GSA another $3.25 billion to buy more expensive, low carbon construction materials
110019 allocates $900 million in reimbursements for higher-cost construction materials that meet new climate requirements
90016 is an additional $100 million of environmental research that goes only to "minority-serving institutions"
110010 spends $500 million for GSA green buildings retrofitting
110011/13 includes $1.25 billion for the replacement of facilities damaged by climate change and remediation of climate change at ports
26001 provides $7 billion to create new climate justice advocates in service groups like Americorps. These grants are only for projects related to "climate resilience and mitigation"
26002 provides another $450 million to nontraditional climate apprenticeship programs
On the positive side of the ledger, The Build Back Better Act does nearly double the budget of the Department of Energy's Loan Program Office (LPO), a relatively successful project to give clean energy innovators access to capital. The LPO has kept pace with private lenders in terms of loan loss rates while also creating thousands of jobs and spurring technological progress. While it could use some reform to ensure it is funding earlier stage research and technologies—as opposed to picking commercial winners and losers—the LPO has carved out an important role in funding research and innovation that might be too risky or expensive for the private sector alone
Many of the Build Back Better Act's provisions also function as handouts to unions and labor, sometimes explicitly. And given the reliably Democratic history of American unions, it is not hard to understand why. Between 2019 and 2020, labor unions spent over $80 million on political campaigns, 88% of which went to Democrats.
21002 provides $350 million to "rebuild" the National Labor Relations Board
21003 provides $321 million to "rebuild" the Equal Employment Opportunity Commission
A key group here is the teachers' unions. The bill does little to change the failing education system. America's K-12 students are ranked 38th in math and 24th in science globally, yet the bill mostly funds the hiring of tens of thousands of new potential members of teachers unions as well as raises for the over 125,000 unionized pre-school teachers and childcare workers.
23002 provides $18 billion for Universal Preschool, but $7.5 billion of it must be used for pay increases for those already working in Head Start
The bill also provides rewards to higher education. Professors and university administrators, who donated five times as much to President Biden than to former President Trump in their 2020 campaigns, will receive sizable public grants:
136601 gives $1 billion a year to higher education institutions (with a larger credit to minority-serving institutions) for creating environmental justice programs
Similarly, when it comes to healthcare, billions go to creating new potential members of the Services Employees International (SEIU,) the largest union of healthcare workers and an almost exclusively (97%) Democratic donor:
134101 establishes about $500 million in grants to create new healthcare workers from low-income communities
134304 spends $50 million to improve staff-to-patient ratios in hospitals
134201 provides $392 million to create additional nurses, with most of the funds going as wage subsidies or government-funded employee benefits
31005/8 allocates $850 million for training nurses and creating a new health corps, while doctor training gets just $20 million
The United Auto Workers (UAW), one of the largest unions in North America, also profits from this bill. Despite donating "only" 73% to Democrats in 2020, the UAW spent 99% of its contributions on Democrats in the previous 28 years.
136401 provides households making up to $800,000 per year up to $12,500 in tax credits for electric vehicles, but only if those vehicles are brand new and produced by union workers
80001/3 allocates $12 billion to the federal government for adding electric vehicles to existing fleets, including $7 billion for Postal Service vehicles
In addition to unions, other reliably Democratic constituencies receive hefty rewards from this bill. From subsidizing electric bikes for well-off urbanites to prioritizing race-based over needs-based funding, the Build Back Better Act is often explicitly political in its choices.
Childcare benefits in the bill are weighted toward single mothers—who vote 8 to 1 Democratic—and against married couples and people who are working.
Then there is Hawaii, which represents only 0.4% of the US population but is the third most Democratic leaning state in America. Hawaii receives more exclusively dedicated funding than the ten most populous states combined.
31071 special funding of nearly $275 million to upgrade the healthcare system in one state — Hawaii
70101/2 provides $500 million for tribal and Native Hawaii climate "resilience"
70301/05 $181 million to save endangered species. And add $5 million to save endangered plants in Hawaii and $5 million to save "desert fish"
40401 spends $1.6 billion to develop the Minority Business Development Agency
31051 gives $50 million for substance abuse training fellows only in communities of color
20006 allocates $200 million to preserve Native American Languages
20025 provides $6 billion in scholarships only at pre-selected HBCUs
12102 allocates over $1 billion in total to help provide financial assistance to people who have experienced discrimination in farm lending programs, including $10 million for "equity commissions"
40001/40002 provides $90 billion for public and affordable housing
11003 expends $4 billion to achieve "neighborhood equity" focusing on reconnecting divided communities
136103 expands credits for "environmental justice" solar and wind energy projects only located in low-income areas
50003 provides $100 million in new grants to non-profit community organizations fighting for greater security
136406 provides up to $1,500 for electric bike owners, who earn above-average incomes and 33% of whom make over $100,000 per year
As to more universal benefits, they are propped up by accounting gimmicks. The $400 billion in childcare and pre-school benefits is priced over ten years but expires in six. The increased child-care credit only lasts for one year. The expanded benefits to buy Affordable Care Act healthcare plans run out in 2025. If these provisions are indeed extended over the full ten years, the true cost of the bill is closer to $4 trillion than the stated $1.75 trillion.
Yet despite the massive price tag, some of Americans' top priorities still receive only minimal attention in the Build Back Better Act. That is especially the case for Covid-19, which has taken 750,000 American lives and counting but is frequently slighted in favor of climate relief.
31021/23 provides for $3 billion—or 0.015% of the bill—in funding to prevent the next pandemic
31044/31038 dedicates $15 million to a program to monitor pregnancy risks associated with Covid-19, while over five times that amount is spent to address the risks of climate change on pregnant individuals
And even in the provisions that do address climate change, the bill's priorities are questionable:
90013 spends $139 million for hurricane detection planes
Despite doling out billions for electric vehicles and "climate justice grants", the Build Back Better Act ironically underinvests against one of the most threatening aspects of climate change. Natural disasters are becoming stronger and more common, and investments in hurricane detection could help mitigate catastrophic damage.
The opioid epidemic is also under-represented in this bill. In the 12-month period ending in March 2021, overdose deaths reached an all-time high of roughly 100,000. The actual number is likely higher than that due to inadequate data on the subject, according to the CDC. Yet:
70106 provides just $124 million to combat substance abuse in the US
If these top priorities are going unaddressed because the Build Back Better Act is at its maximum spending capacity, then perhaps there are some less practical provisions that funding can be drawn from:
30118 spends $100 million just on figuring out how to label construction materials as low carbon products
30412 allocates $220 million on just administering homeowner subsidies.
31025 provides for $50 million to train more doulas for childbirth, despite the birth rate declining six years in a row for a record low in 2020
110012 dedicates $350 million for a new ice-breaking ship, ironic considering the overarching climate goals of this bill
70501 provides $65 million to the Council on Environmental Equality to measure only the negative impacts of climate change. If deaths from cold are diminished, they would not be counted as this will not be a holistic study.
In isolation, a member of Congress could make a case for why many of the programs in the reconciliation bill are important. But it is very hard to make the case that these provisions represent any kind of thoughtful or deliberate policymaking. In ways large and small, this bill doles out benefits to Democratic constituencies at the expense of others. Much of the funds have no connection to the accountability metrics that would matter to the American people, such as better performing schools or reductions in the cost or carbon emissions of our energy. Race is often put over need as the selection criteria. Measures to fight Climate change are not paired with others to enhance energy independence, even as gas prices are soaring. Ideology on issues is often mandated and rewarded. As usual, a one-party bill rewards one party's core interest groups.
Is this actually Building Back Better? You be the judge.
Next week Virginia will host a gubernatorial election that many see as a bellwether for the 2022 midterm elections. And of late, Virginia has become ground zero for an emerging national debate over critical race theory (CRT) and the composition of public school curriculums.
Previously, The New Center produced a primer explaining CRT in the words of its chief proponents, including the scholar Richard Delgado who said: 
"The critical race theory movement is a collection of activists and scholars interested in studying and transforming the relationship among race, racism, and power…Unlike traditional civil rights, which embraces incrementalism and step-by-step progress, critical race theory questions the very foundations of the liberal order, including equality theory, legal reasoning, Enlightenment rationalism, and neutral principles of constitutional law."
Now, we have surveyed the latest public opinion research to pin down what the American people really think of CRT and how race should be taught in schools.
Many Americans are unfamiliar with the specifics of critical race theory
According to a Reuters/Ipsos poll from July 2021, a majority—57%—of Americans are not familiar with CRT. And it turns out the ones who claim they are familiar with CRT do not know too much about its specific tenets. Only three in ten respondents who knew of CRT could answer a few questions about what the theory entails. 
CRT is a highly politicized topic, so it follows that politically involved Americans are more likely to know about CRT than their peers. According to a Yahoo News/YouGov poll from June 2021, nearly three quarters of self-proclaimed conservatives and liberals were familiar with CRT while less than half of moderates could say the same.
Most who are familiar with critical race theory have an unfavorable view of it
An Economist/YouGov poll from June 2021 found that 58% of Americans familiar with CRT do not like it. 38% were in favor of it, and only four percent of those who knew about CRT did not have an opinion. For the population as a whole, about 13% of people supported CRT, 20% opposed it, and the rest were unfamiliar with it. 
More Americans do not want critical race theory in the classroom than those who do
That's according to the Yahoo News/YouGov poll. Nearly half—49%—of those who know about critical race theory opposed exposing students to it, while only 37% were in favor. The poll found over nine in ten Republicans did not support teaching CRT, while three quarters of Democrats were in favor. White people were more likely to oppose teaching CRT, with 55% against and only 33% for it. Black and Hispanic people, on the other hand, supported teaching it at higher rates. 43% of Hispanic and 62% of black respondents were in favor of CRT curricula.
The vast majority of educators report they are not teaching critical race theory
EdWeek's July 2021 national survey of K-12 educators found that only eight percent of all teachers reported teaching or discussing CRT with their students. While one in five teachers in urban schools had discussed the topic, only 6% of rural and suburban teachers—the largest group—said they had done so. 
Further, many teachers do not want to teach CRT. The American Association of Educators, which represents K-12 teachers across the country, found that only 11% of their members believed they should be required to teach CRT. Additionally, more than half of their members thought they should not be allowed to teach CRT at all.
Most parents want their children to learn about the history of slavery and discrimination in the U.S., but not that the country is inherently racist.
A September 2021 poll from USA Today/Ipsos sought to understand what exactly parents want their children to learn about race. Over three quarters of parents supported teaching the history of slavery and racism, and 63% of parents wanted schools to teach the ongoing effects of racism today. Twenty-two percent of parents wanted their children to start learning about racism in kindergarten, and the majority believed sometime during or before fourth grade is appropriate.
But Americans do not want their children to think race infuses every facet of our society. In June 2021, a Harvard/Harris poll found that 61% of people do not think students should learn that the U.S. is "structurally racist."
Statewide mandates are an unpopular approach to stopping critical race theory curricula.
As of October 2021, 13 states have banned critical race theory or some of its associated tenets from school curricula. Several other states are trying or planning to do the same thing. 
But even though the plurality of Americans oppose CRT, most do not approve of state-level authorities stepping in to ban it. 54% of Iowans, whose governor signed an anti-CRT law in June, opposed the move. Similarly, 51% of New Hampshirites opposed the Granite State's ban on teaching CRT and other divisive racial topics. Perhaps Americans favor more localized decision making when it comes to school curricula.
Americans today seem more focused on what divides different races than what unites them. Teaching about race has only gotten more divisive in recent years.
A 1998 survey from Public Agenda about views on race in America found that 86% of white parents, 81% of black parents, and 80% of Hispanic parents would be concerned if a teacher "taught that America was, and still is, a fundamentally racist country." By even larger margins, parents felt that there was too much focus on "what separates different ethnic and racial groups and not enough on what they have in common."
But a 2020 poll from the Wall Street Journal found that only 50% of Americans think it is better to focus on what people with different racial backgrounds have in common, a nearly 40-point drop from the 1998 consensus.
Local school boards are suddenly in the national spotlight. School board recalls have more than doubled this year. Parents and others angry about Covid-19 precautions, the impact of remote learning, and potential curriculum changes involving critical race theory have demonstrated en masse at school board meetings across the country. Some of these demonstrations have escalated to violence or threats of it. 
Now, Attorney General Merrick Garland has deployed the Federal Bureau of Investigation (FBI) to maintain safety at school board meetings. What exactly will they be doing? Can, and should, the FBI get involved in local school board affairs? The New Center investigated to find out.
What did Garland order?
On October 4, Garland issued a memo to address the security of school board members and school administrators. In the memo, Garland expressed concern over recent events at school board meetings that "are not only illegal" but also "run counter to our nation's core values." Garland directed the FBI to meet with officials in all 90 federal judicial districts to strategize about threats against school board members. Additionally, the meetings will establish lines of communication for local officials to report threats and attacks.
What prompted Garland's memo?
Garland's memo came just days after a letter to President Biden from the National School Boards Association (NSBA), an advocacy group representing local school boards. The letter claims there are a "growing number" of acts of violence and intimidation directed toward school board members. The letter requests assistance from federal law enforcement agencies in identifying and addressing these dangers. 
Are school board members in danger?
The NSBA cites 20 concerning incidents that they feel necessitate federal involvement. Most of these are cases of protesters non-violently disrupting school board meetings, but others are more malicious. The letter references two threats of violence to individual school board members, one instance of a man using the Nazi salute and praising Hitler at a school board meeting, and one instance of a man striking a school official during a particularly rambunctious meeting.
For perspective, there are some 13,800 public school districts in the U.S., and nearly as many school boards. The vast majority of school board interactions are peaceful.
Does the FBI have the authority to get involved?
The NSBA's letter invokes several laws and other factors that they believe would justify federal intervention. The NSBA argues that some of these acts are akin to domestic terrorism pursuant to the PATRIOT Act and that others, like the Nazi salute, fall under the Matthew Shepard and James Byrd Jr. Hate Crimes Prevention Act. The NSBA also claims the attacks affect interstate commerce and emphasizes that at least one threat was sent via the U.S. Postal Service, which can warrant federal attention.
But some believe the FBI's involvement would constitute an abuse of federal authority. Former Representative Jim Sensenbrenner (R-WI), author of the PATRIOT Act, denounced its use in this case as the incidents in question do not reflect the definition of terrorism under the Act. Catherine Truitt, North Carolina's State Superintendent, quipped that sending the FBI to address isolated acts of violence "is like killing a fly with a hammer." Even some of the NSBA's own affiliates disagree with the letter. The Virginia chapter, which represents the embattled Loudoun County school board, rejected assistance from the FBI in favor of state and local law enforcement. 
Why is the order controversial?
Some critics of the FBI's involvement suggest it's part of an attempt to silence ideological opponents of the Biden administration. Although the text of Garland's memo says the FBI will only be investigating violence and threats, Manhattan Institute Senior Fellow Chistopher Rufo suggests the order is actually "designed to suppress speech and assembly and to justify the further federalization of education policy." 
Other critics, like the 11 Republicans on the Senate Judiciary Committee, are more concerned about the FBI appearing to target ideological dissidents. In a letter to Garland, the Senators argue that, even if unintentionally, Garland's memo deters peaceful expression at school board meetings and chills free speech in America. The 11 Senators condemn violence and welcome the FBI's help in maintaining safety, but they ask Garland to make clear that only violence and legitimate threats will be investigated—not constitutionally protected speech.