Section 230 Challenged by the EO on Preventing Online Censorship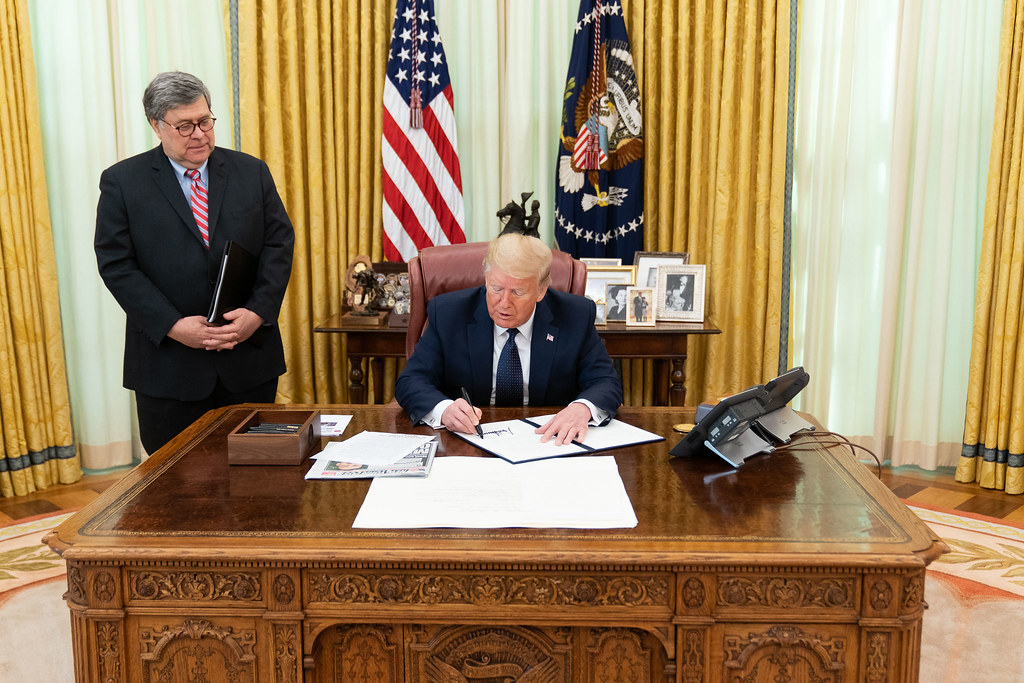 President Trump's threat to reign in social media companies
Last Thursday, May 28, 2020, President Donald Trump issued the Executive Order on Preventing Online Censorship, two days after Twitter placed a fact-checking label on one of his tweets regarding mail-in voting. On May 29, Twitter flagged two additional tweets from the President's account (@realDonaldTrump) and the White House's official Twitter account (@WhiteHouse), about protests and looting following the brutal killing of George Floyd by a Minneapolis police officer.
President Trump tweeted that he would "send in the National Guard and get the job done right… Any difficulty and we will assume control but, when the looting starts, the shooting starts." President Trump posted the same message on Facebook soon after his Twitter posting.
Twitter issued a warning label on the tweets, stating that they violated company policies against "glorifying violence." President Trump responded by announcing a new executive order compelling the Federal Communications Commission (FCC) and Federal Trade Commission (FTC) to reexamine the scope of Section 230 of the Communications Decency Act of 1996.

Reforming Section 230 would have far-reaching implications for social media platforms and their users—President Trump described the move as "a big day for social media and fairness!" However, telecommunications law experts are arguing that this Executive Order may not be legally enforceable at all.

Section 230: The foundation of the modern internet
Section 230 states that technology companies aren't considered "publishers" of third-party content, but rather "platforms," protecting them from liability through safe harbor provisions. In the early years of the internet, it ensured nascent digital platforms and products could grow without being crushed by litigation. However, the provisions are now being widely criticized as outdated and overly broad. Section 230 opponents argue that companies like Google and Facebook need to be more accountable for illicit or misleading content posted by their users and advertisers. President Trump's Executive Order asks the FCC and FTC to reconsider Section 230, so that the U.S. government may be able to take action against providers that "restrict speech in ways that do not align with those entities' public representations about those practices."

Twitter spokesman Brandon Borrman responded to the executive order: "this EO is a reactionary and politicized approach to a landmark law… Attempts to unilaterally erode [Section 230] threaten the future of online speech and Internet freedoms."

As Twitter doubled down on their warning labels earlier this week, Facebook CEO Mark Zuckerberg firmly stated that the company wouldn't be labeling President Trump's same post on Facebook. Zuckerberg's stance prompted several hundred Facebook employees to refuse to work in a "virtual walkout" on June 1, with some even threatening resignation.

Support for Section 230 has been crumbling
In recent years, Democrats and Republicans have found common ground in questioning Section 230 liability protections, but they have done so for different reasons. President Trump has been an outspoken critic of technology companies "doing everything in their very considerable power to censor in advance of the 2020 Election," echoing the widespread Republican sentiment that social media companies attempt to curb conservative messaging on their platforms. Conversely, Democrats have condemned what they see as the rise of hate speech and conspiracy theories on social media without appropriate guardrails against the dissemination of misinformation.

In a speech on December 10, 2019, Attorney General William Barr stated that the DOJ is looking into Section 230 and that the law has "extended far beyond what Congress originally intended." He argued that platforms have legal immunity from "blocking or removing third-party speech—including political speech—selectively" and allow communications within terrorist organizations. Prominent corporate opponents to Section 230 (in its current form) include Oracle, Salesforce, and Microsoft. Facebook CEO Mark Zuckerberg has stated that without Section 230, he wouldn't have been able to start Facebook, but the company now must take a "broader view of its responsibility," without providing concrete details.

Is this EO legally enforceable?
Under the Executive Order on Preventing Online Censorship, the Trump administration will first direct Commerce Secretary Wilbur Ross to file a petition with the Federal Communications Commission (FCC), demanding that they clarify if technology companies should be liable for third-party content.

The FCC, an independent agency, could refuse the Secretary's petition. The FCC's leadership is composed of two Democratic commissioners, two Republican commissioners, and Republican Chairman Ajit Pai, though the agency is ostensibly nonpartisan. The two Democratic members have publicly denounced President Trump's idea, while Republican Commissioner Brendan Carr has openly lauded the Executive Order. Chairman Pai has stayed tight-lipped on his position but noted that the FCC would "carefully review any petition for rulemaking" filed by the Trump administration.

Even if the FCC were to approve this request before the 2020 election, a new ruling on Section 230 would attract legal challenges. Experts expect legal battles would be fought on two fronts: (a) challenges to the rule change as an unconstitutional limitation on free speech, and (b) challenges to the FCC's rulemaking authority, as the agency doesn't have the legal mandate to regulate content on social media platforms. As the Executive Order stands, there is little likelihood that it will be legally enforceable in its current form.

The most enforceable way that America can revoke Section 230 is through Congress. With renewed attention to the statute, policymakers will likely begin submitting new legislation or reintroducing old proposals. Before the executive order, Trump allies Senator Josh Hawley (R-MO) and Rep. Matt Gaetz (R-FL) separately announced their plans to introduce Section 230 repeals over allegations of election interference and anti-conservative biases.

Section 230 needs to change, but do it the right way.
Section 230 should be updated for a new era, but it should be done so by Congress, where any changes will likely be bipartisan and durable over time. If designed well, new frameworks for regulating harmful content can contribute to the internet's continued success by articulating transparent, predictable, and balanced ways for government, companies, and civil society to share responsibilities and work together. If designed poorly, these efforts may stifle expression, slow innovation, and create the wrong incentives for internet platforms.

In June 2019, The New Center suggested potential reforms to Section 230 provisions in a policy paper entitled "Big Tech: Public Discourse and Privacy." The New Center proposes the following solutions to create a sustainable framework for platform liability and responsibility:
In line with the First Amendment, online speech should be free unless inciting violence or promoting dangerous obscenity
Operators should have liability for any demonstrable negligence, as determined by the Federal Trade Commission
Platforms should provide meaningful notice to those who have their content removed
Platforms should allow users the right to appeal any content takedown
Platforms should issue public reports detailing the amount and types of content they remove, along with justifications for removal