The Fourth Industrial Revolution Is Here
In early August, the Trump administration issued executive orders banning the popular Chinese mobile applications TikTok and WeChat, citing national security concerns about data privacy. While China has blocked some of the largest American services such as Facebook and Google for years, the U.S. has only recently reciprocated. Although the Trump administration justified its move on national security grounds, the move against TikTok and WeChat is part of a broader, long-term competition between China and the U.S. over the most important technologies of the future.
The world is in the early stages of the Fourth Industrial Revolution, which the World Economic Forum characterizes as "a range of new technologies that are fusing the physical, digital and biological worlds, impacting all disciplines, economies and industries, and even challenging ideas about what it means to be human."
While the U.S. outpaced the world in previous tech innovations–from the creation of the first computers and the Internet–our future leadership in the Fourth Industrial Revolution is an open question. China has put the full weight of its government and state-owned banks behind an effort to build up "national champions" in key sectors, and the U.S. government has only started to fashion a coherent long-term response. In this paper, The New Center will outline the current state of competition between the U.S. and China in emerging technology areas and highlight how the U.S. can ensure its preeminence in them.

What's At Stake?
The U.S. Still Leads in Tech, But For How Long?
While the media has lately been fixated on the U.S. seeking to ban or minimize market access to Chinese tech companies like TikTok, WeChat, and global 5G leader, Huawei (click here for The New Center's recent paper on 5G), the U.S.-China competition is playing out across an array of cutting edge industries and technologies. Here is a primer on the current state of innovation in the fields of artificial intelligence (AI), biotechnology, and advanced computing.
Artificial Intelligence
A recent report by Citi that studied the AI competitiveness of 48 economies found that the U.S. still leads significantly. The other 47 economies included in the index would face "severe difficulties in catching up to the U.S.'s AI industry in 2020-30," the report said.

This was attributed to the U.S.'s strength, particularly in AI patents, investment, and academic research. However, the report also found that only China, ranked second behind the U.S. in the index, would be likely to "cultivate an independent strong ecosystem for the AI industry due to both economic and geopolitical reasons."

Three years ago, Beijing declared its intention to be the world leader in AI by 2030, envisioning a domestic industry alone worth some $150 billion.

China's publicly traded tech giants, including Alibaba and Baidu, have plowed billions of dollars into AI research and set up labs in China and Silicon Valley, taking advantage of the latter's openness. That has made them juggernauts, outshining global rivals in areas including e-commerce, algorithms, and facial recognition. The performance of AI technologies depends to a large degree on the volume and quality of data being fed into the system. China's huge population, surveillance infrastructure, and more lax attitude on privacy rights generate huge volumes of data, which produces ever-smarter AI.

But while China may contribute more AI research and be ahead in some important subsets of AI like facial recognition, it's not ahead in all of them. And when it comes to research into artificial general intelligence, or AI with broader, humanlike thinking abilities, U.S. companies— Microsoft, Google and others—are in the lead. U.S. AI companies attracted over half of all global investments in AI between 2015 and 2019, which they've invested in recommendation engines, targeted advertising, and automatic filtering of obscene or otherwise banned pictures and videos, as well as AI services which enable letting companies, governments, and police departments tap into the power of their algorithms.

The U.S. produces some of the world's best AI research and talent because of its combination of leading universities, deep-pocketed tech companies, and an openness to ideas and people from across the globe—areas where the U.S. has a sustainable advantage, at least in the medium term.

Biotechnology
Biotechnology has the potential to utterly transform geopolitics, economics, and society in the 21st century. Yet while the United States has long been the world leader in most segments of the global biotechnology sector, China is fast becoming a significant player.

Biotechnology is an area of biology that uses living processes, organisms, or systems to manufacture products or technology intended to improve the quality of human life. Its applications are immensely important for food production, synthetic materials, and medical care. Biotechnology is responsible for manufacturing existing drugs such as insulin more easily and cheaply, as well as helping to create potentially breakthrough drugs for treating cancer, heart disease, and Alzheimer's. On current trends, the United States is likely to remain the world leader in most biotechnology areas. However, the gap between China and the U.S. is narrowing in the biotechnology sector.

The United States accounted for almost half of all biotechnology patents filed worldwide from 1999 to 2013, thanks to extensive government funding for biomedical research, an unparalleled ability to translate basic research into commercial products and applications, and strong intellectual property protections. However, a report prepared for the U.S.-China Economic and Security Review Commission claims that collectively, China's central, local, and provincial governments have invested billions in life sciences research and development. In just the two-year period from 2015 to 2017, China's venture capital and private equity investment in the sector totaled some $45 billion.

An executive from In-Q-Tel, a "not-for-profit strategic investor that accelerates the development and delivery of cutting-edge technologies to national security agencies," warned Congress in a November 2019 hearing that China "intends to own the biorevolution… and they are building the infrastructure, the talent pipeline, the regulatory system, and the financial system they need to do that."

Semiconductors
John Bardeen, Walter Brattain, and William Shockley created the first working transistor, an early semiconductor device, at Bell Labs in Murray Hill, New Jersey in 1947. Since then, semiconductors have become the basic component of nearly every modern electronic device such as televisions, computers, and phones.

China has spent tens of billions of dollars over decades trying to get a leg up in semiconductors, essential ingredients in the race for faster computers and smartphones and more sophisticated weaponry. China accounts for about 60% of global demand for semiconductors but only produces some 13% of global supply. Statistics from the Semiconductor Industry Association (SIA) suggest U.S. exports of chips to China have stayed around the same level for years, and that Chinese companies haven't gained much market share, even domestically. About 47.5% of chips sold in China were American made as of 2018, according to SIA figures.

China's neighbors have emerged as prominent suppliers, with South Korea's Samsung Electronics becoming a dominant smartphone and chip supplier and Taiwan Semiconductor Manufacturing becoming the world's largest contract chip manufacturer.

Meanwhile, China's leading chip maker, Semiconductor Manufacturing International Corporation (SMIC), isn't able to produce the most cutting-edge chips with the smallest transistors. The U.S. Department of Defense is currently considering adding SMIC to the Commerce Department's entity list, which would restrict SMIC from receiving specific goods made in the U.S. The Center for Strategic and International Studies estimates that China is five to seven years behind the U.S. and Taiwan on chip technology, but it may take longer for China to catch up because cutting-edge chips are a moving target. By the time China is able to make chips that compete with the best available today, the rest of the industry will likely have taken another leap ahead.

For the short term, China's semiconductor strategy is focused on reducing reliance on the U.S., which often means finding other non-Chinese substitutes. In the long term, though, China's huge investments in semiconductors will likely pay off.

How Did China Get Here?
Made In China 2025
Released in 2015, Made in China 2025 is the Chinese government's ten-year plan to update its manufacturing base by rapidly developing high-tech industries. Chief among these are electric cars, next-generation information technology (IT) and telecommunications, and advanced robotics and artificial intelligence (AI).
China's ultimate goal is to reduce dependence on foreign technology and promote Chinese high-tech manufacturers in the global marketplace. By 2025, China aims to achieve 70% self-sufficiency in high-tech industries, and by 2049—the hundredth anniversary of the People's Republic of China—it seeks a dominant position in global markets.
Made in China 2025 reflects Beijing's longstanding development goals. In recent decades, the Chinese Communist Party has taken steps to shift the economy away from resource extraction and low value-added, low wage manufacturing—largely mining, energy, and consumer goods such as clothing and footwear, which make up almost half of the country's economy—to a high-tech, high-productivity economy. China 2025 is intended to push the economy through this difficult transition and over the so-called middle-income trap, in which growth plateaus as wages start to rise, that has bedeviled many other developing countries.
China 2025 devotes more government resources and centralized policy planning to coordinate across government, private companies, and academia. The plan includes publicly stated policies, as well as more opaque actions, which are meant to shield China from accusations of violating its commitments to the World Trade Organization (WTO) and avoid retaliation. The Council on Foreign Relations details these tactics, which include:
Setting explicit targets. Through both public goal setting and semi-official, backchannel coordination, China's leadership encourages private and public firms to shape their decision-making around the plan's priorities.
Providing direct subsidies. The government provides direct support to industries through state funding, low interest loans, tax breaks, and other subsidies. The exact amount is unclear, but some outside estimates by the EU

Chamber of Commerce

put the likely number in the hundreds of billions of dollars.
Foreign investment and acquisitions. Chinese companies, both private and state-backed, have been encouraged by the government to invest in foreign companies, notably semiconductor firms, to gain access to advanced technology. The value of Chinese acquisitions in the United States peaked in 2016 at over $45 billion.
Mobilizing state-backed companies. China's economic reforms of the 1990s reduced the role of state firms in the economy, but they still account for a third of gross domestic product (GDP) and an estimated two-thirds of China's outbound investment. Many of China's global tech leaders, such as Huawei and ZTE, while privately run, are supported by the government.
Forced transfer agreements. Foreign companies complain that to invest or do business in China, they must enter into joint ventures with Chinese firms under terms that require them to share sensitive intellectual property and advanced technological know-how.
Policymakers and security officials in the United States and other developed countries increasingly see China's efforts to become a dominant player in advanced technology as a national security problem. The Pentagon warned in 2017 that state-led Chinese investment in U.S. firms working on facial recognition software, 3-D printing, virtual reality systems, and autonomous vehicles is a threat because such products have "blurred the lines" between civilian and military technologies. In April 2018, the U.S. National Intelligence Council said that China's recruitment of foreign scientists, its theft of U.S. intellectual property, and its targeted acquisitions of U.S. firms constituted an "unprecedented threat" to the U.S. industrial base.
More broadly, U.S. policymakers worry that China's state-led model and its ambition to control entire supply chains—for instance, the cobalt industry, which powers most modern electronics—means that entire industries could come under control of a rival geopolitical power. A June 2018 White House report warned that China's economic moves threaten "not only the U.S. economy but also the global innovation system as a whole."
China Standards 2035
China's latest ambitious plan, set to be released in 2020, focuses on writing global standards for the next generation of technology, a move that could have enormous implications for tech industries worldwide.
The China Standards 2035 plan will lay out a blueprint for China's government and leading technology companies to set global standards for emerging technologies like 5G internet, the Internet of Things (IoT), and artificial intelligence, among other areas.
The plan is the culmination of a two-year research project that began at the start of 2018, led by the General Administration of Quality Supervision, Inspection and Quarantine (AQSIQ) and carried out by the Chinese Academy of Engineering.
While the full report has not yet been released to the public, the early preliminary report puts forward ambitious plans for China to reshape the global technology industry. Chinese policymakers often invoke the idea that third-tier companies make products, second-tier companies design technology, and first-tier companies set standards.
According to this line of thinking, China is currently home to mostly third-tier companies–those that produce designs originally created abroad. Made in China 2025 set up a plan to foster second-tier companies that are leaders in design and innovation.
To transform China into an incubator of first-tier companies that set the rules of the game, China Standards 2035 stresses the importance of becoming a leader in the next generation of emerging technologies.

New Center Solutions
How then can the U.S. maintain its advantage in key technologies and ensure it sets the standard for new innovations in the future? A comprehensive strategy to accomplish such a goal requires both a domestic and international focus.
What Can Be Done at Home?
The bipartisan Endless Frontier Act bill, introduced to Congress in late May, provides a necessary blueprint of the strategy necessary to guarantee U.S. leadership in the scientific and technological innovations that are so vital to our economic future.
The Endless Frontier Act proposes an expansion of the National Science Foundation (NSF)—to be renamed the National Science and Technology Foundation (NTSF)—and the establishment of a Technology Directorate within NTSF to advance technology in ten critical focus areas.
The newly-established Technology Directorate would receive $100 billion over five years to lead investment and research in several emerging technology areas. An additional $10 billion would be authorized to designate at least ten regional technology hubs, awarding funds for comprehensive investment initiatives that position regions across the country to be global centers for the research, development, and manufacturing of key technologies.
The new Directorate would invest in key technology focus areas that include:
Artificial intelligence and machine learning
High performance computing, semiconductors, and advanced computer hardware
Quantum computing and information systems
Robotics, automation, and advanced manufacturing
Natural or anthropogenic disaster prevention
Advanced communications technology
Biotechnology, genomics, and synthetic biology
Advanced energy technology
Cybersecurity, data storage, and data management technologies
Materials science, engineering, and exploration relevant to the other key technology areas
The new directorate would also carry out activities that include:
Increases in research spending at universities (which can form consortia that include industry) to advance U.S. progress in key technology areas, including the creation of focused research centers;
New undergraduate scholarships, industry training programs, graduate fellowships and traineeships, and post-doctoral support in the targeted research areas to develop the U.S. workforce;
The development of test-bed and fabrication facilities;
Programs to facilitate and accelerate the transfer of new technologies from the lab to the marketplace, including expanding access to investment capital;
Planning and coordination with state and local economic development stakeholders and the private sector to build regional innovation ecosystems; and
Increases in research spending for collaboration with U.S. allies, partners, and international organizations.
What Can Be Done Abroad?
The Center for New American Security (CNAS) has proposed the idea of forging an "Alliance Innovation Base," which is a community made up of the U.S. and its allies who are determined to deepen cooperation on technology innovation and protection. To create such an alliance, the proposal suggests strengthening America's toolkit for technology engagement by broadening the mandate of the Defense Innovation Unit, an organization under the Department of Defense founded to help the military make use of emerging technologies, as well as adding technology scouting to the list of responsibilities for Defense Attaches posted to U.S. embassies.
Additionally, the proposal calls for building ally awareness capacity and launching new collaborative programs with allies. This could include expanding information sharing, promoting more awareness of China's actions, and establishing bilateral innovation funds. Finally, the proposal advocates for creating more positive incentives for technology protection and specifically focusing on leveraging the U.S.-Japan alliance. Any future presidential administration would be wise to prioritize the creation of such an "Alliance Innovation Base" as a key foreign policy objective to curb China's ambitions.
In late 2019, the U.S. unemployment rate was the lowest it had been in 50 years.

By May 2020, it was 13.3%, the highest level since the Great Depression.

At least 20 million jobs have been lost since the onset of the COVID-19 crisis, and millions more people are working reduced hours.

To their credit, Congress, the U.S. Treasury Department, and the Federal Reserve have marshalled an unprecedented, multi-trillion dollar response to this economic and employment crisis. This included measures to shore up financial and credit markets, loans and grants to small businesses, as well as targeted relief to workers and families with a direct $1,200 stimulus check, and an expansion of unemployment benefits to include an additional $600 each week from the federal government.

And yet a question must be asked:

Shouldn't this historic government response from Washington buy us something better than the worst unemployment crisis since the 1930s, with millions of workers unsure when or if they'll be able to go back to their old jobs?
It should, and it could, if America was committed to a more robust program to keep workers connected to their jobs. Like, for example, in Germany, whose response to the economic crisis brought about by the COVID-19 pandemic has largely relied on a program called Kurzarbeit. Translated as "short-time work," this government program directly pays workers 60-70% of their salary while maintaining their employment status during periods of reduced working time. This alternative furlough scheme has proven successful in reducing unemployment in previous economic crises and is doing so once again now.

In Germany, the unemployment rate as of May 2020 was 6.3%, significantly lower than the 13.3% rate experienced in the U.S. Even though some of that disparity can be explained by Germany being able to more effectively stem the spread of COVID-19 and avoid the ruinous lockdowns that were required in the U.S., Kuzarbeit has unquestionably played a role in helping prevent layoffs of German workers. Other European countries, including the UK, Denmark, and the Netherlands, have implemented similar models after recognizing Germany's success in recovering from the 2008 recession.

In this paper, The New Center explores how the U.S. might embrace a Kurzarbeit-like program to protect American jobs in future recessions.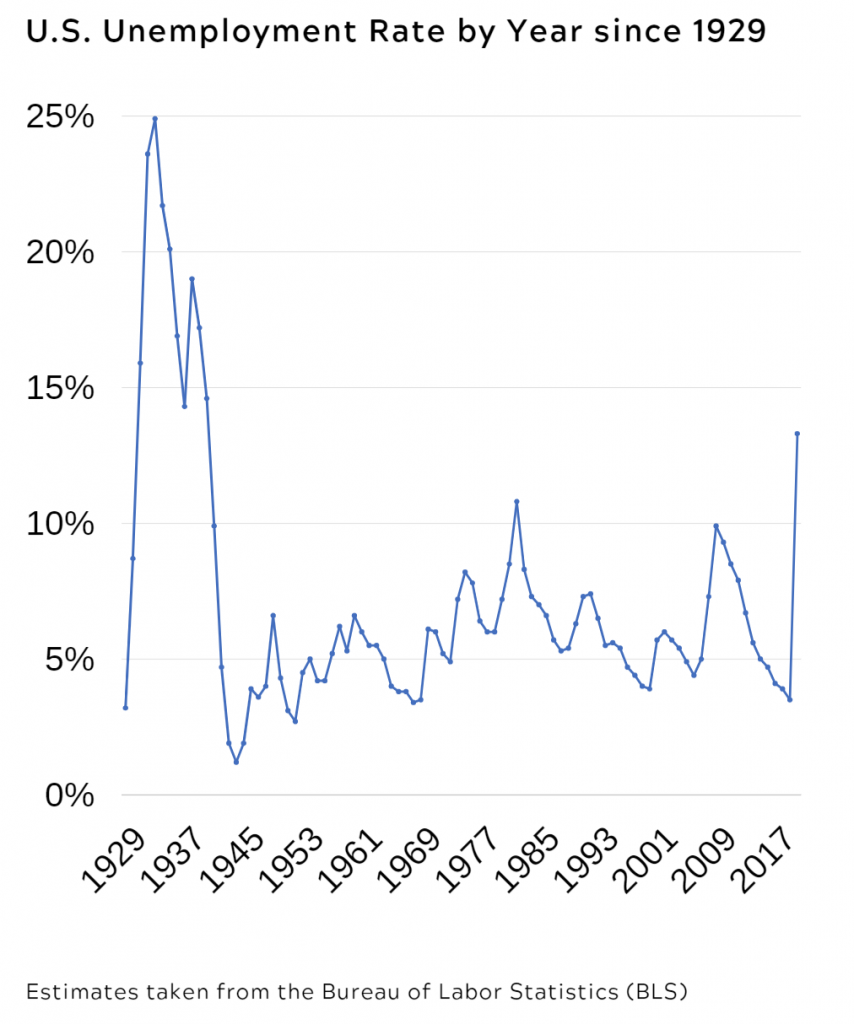 How does the Kurzarbeit program work?
The Kurzarbeit program has existed in some form since the early 1900s but was significantly expanded in the aftermath of the 2008 recession. In the wake of that financial crash, Germany's unemployment rate peaked at 7.9%, compared to the U.S. where it reached as high as 10.6%. Having saved nearly half a million jobs in Germany during the 2008 recession, according to OECD estimates, millions more jobs could be saved during the COVID-19 pandemic thanks to the program.

Under the German Kurzarbeit program, when working hours are reduced due to economic shock, employers can apply for the program in order for their employees to receive partial compensation of their wages or salary (typically 60-70%). All other hours worked are paid as usual by the respective employer. The principle underlying Kurzarbeit is simple: It's often better for a company and its workers to maintain the job status of their current employees rather than cutting ties altogether. Employers can avoid incurring the cost of hiring and training new workers, and employees can avoid facing the financial losses and stresses of unemployment. The Kurzarbeit program acts as an automatic stabilizer, kicking in when it is needed and phasing out quickly when economic conditions improve.

As part of its response to the COVID-19 pandemic, Germany expanded the Kurzarbeit program further and made it easier for businesses to access the support. Companies can now receive funding from the program when just ten percent of their workforce have been given reduced working hours, as opposed to the previous requirement of 30%. Since the onset of the COVID-19 epidemic, half of all German firms have applied to put some or all of their employees on the reduced working hours scheme of the Kurzarbeit program. The Ifo Institute in Germany found that 99% of restaurants, 97% of hotels, and 94% of companies in the auto sector are making use of the Kurzarbeit program. Those same industries in the U.S. have been acutely impacted by the pandemic, such as the foodservice industry, which has an unemployment rate reaching as high as 32.3%. The German government expects up to 2.35 million people to receive wage support from the Kurzarbeit program due to the COVID-19 pandemic, costing the country approximately €10 billion ($11.1 billion).
How does Kurzarbeit compare to the U.S. response to recession?
In the U.S., unemployment benefits are more generous than they've ever been thanks to the Pandemic Unemployment Assistance (PUA) provision included in the CARES Act, which offers recipients an additional $600 from the federal government on top of the state unemployment benefits they are already receiving. The PUA is estimated to have covered half of all lost private wages and salaries in April 2020. But it has also led to the largest monthly jump in total unemployment insurance payments in over 60 years, and with a monthly payment total three times higher than the monthly peak experienced during the 2008 recession. Continued support for workers impacted by the crisis is of the utmost importance; however, our current model is both costly and temporary, with the expanded weekly benefit set to expire by July 31, 2020.

Typically, unemployment benefits cover between 30-55% of workers' previous income, also known as the replacement rate. Some workers receiving unemployment benefits amid the COVID-19 pandemic, however, are earning more than their total previous income. A recent study from the University of Chicago found that an estimated 68% of unemployed workers eligible for benefits would actually suffer income losses by returning to work. Unemployment benefits of this magnitude can disincentivize people to get back to work, making an economic recovery that much more difficult. For example, in a recent Bipartisan Policy Center-Morning Consult survey, nearly a third of small businesses said that expanded unemployment benefits made it more difficult to retain their employees.

Unemployment programs on the state level also vary widely in their efficiency and effectiveness. Many states have struggled to handle the dramatic increase in unemployment filings made during the COVID-19 pandemic, and putting the burden on the unemployed to navigate these overwhelmed systems has left many without access to the help they need. According to a Washington Post-Ipsos poll in May 2020, 60% of laid-off workers reported trying to apply for unemployment benefits, but only 28% had received any benefits. The major reason for failure to receive benefits was due to technical issues such as busy phone lines or website malfunction. These problems have afflicted unemployed workers of every demographic, but black workers in particular, who have been laid off at higher rates than white Americans during the pandemic, and haven't seen the same level of improvement in the employment rate as indicated in the May 2020 jobs report.

Clearly the U.S. system for dealing with economic shocks can be unwieldy and inefficient even during a run-of-the-mill recession, but it is particularly ill-equipped to handle unemployment during a crisis of this magnitude.
However, Germany's Kurzarbeit program—for all its virtues—does have some real drawbacks. One issue is the potential for keeping people linked to "zombie jobs," which are jobs that simply may not be necessary in whatever new economy emerges on the other side of this virus. For example, the airline and cruise industry may simply need to be smaller for the foreseeable future to account for the fact that they'll have fewer customers. Some workers in these industries might be better served moving to employment in a different industry with better employment prospects. Despite these concerns, however, the much more immediate economic threat is long-term unemployment. A U.S. program modeled after Kurzarbeit could provide a meaningful solution.
New Center Solution: Kurzarbeit Comes to the U.S.
Is there bipartisan support for a Kurzarbeit-type program in the U.S.?

The short answer is yes.

The longer answer is that the details—like the size and scope of the program and the generosity of its benefits—would ultimately determine if it could get real momentum in Congress.

Representative Pramila Jayapal (D-WA), a member of the Progressive Caucus, has recently introduced the Paycheck Recovery Act, which is modeled after the Kurzarbeit program and would cover the full wage of workers up to $90,000 while also ensuring employers can rehire those laid off or furloughed since March 1, 2020. The program would utilize existing payroll tax infrastructure rather than relying on banks or lending institutions to distribute the direct grants. According to her office it is estimated to cover more than 36 million workers and cost less than what has already been spent on two rounds of the Paycheck Protection Program (PPP) loans, although this estimate has not been verified by a nonpartisan outside source like the Congressional Budget Office.

While Representative Jayapal's specific bill has not yet attracted bipartisan support, many economic thinkers on the right do support the concept of a Kurzarbeit-like program in the U.S. For example, Michael Strain, the director of economic policy studies at AEI, has stated that such a program "would help the economy recover faster from the pandemic by keeping the unemployment rate lower than it would otherwise be and [also] mitigate the prevalence of long-term unemployment, and the financial, social and psychological devastation that accompanies it." The conservative-leaning Tax Foundation has also noted the potential benefit of using a short-time work program to "provide relief to both workers and businesses considerably affected by the crisis." Kevin Hassett, a senior economic advisor to President Trump, advocated for creating a short-time work program back in 2009 in response to the financial recession, suggesting that "fewer workers would be stigmatized by being laid off, significantly reducing chances that long-term unemployment skyrockets."

Many Republicans in Congress also publicly support the basic idea of having the federal government provide incentives to keep people working or get people back to work. For example, in his recently introduced Reopening America by Supporting Workers and Businesses Act, Representative Kevin Brady (R-TX) proposed a back-to-work bonus that would pay workers an additional two weeks of supplemental federal unemployment benefits, equivalent to $1,200, after accepting a job.

Versions of short-time work programs already exist in 26 U.S. states, allowing employers to opt in so employees can receive unemployment benefits for lost hours. However, the number of companies using these programs so far has been limited. According to Betsey Stevenson, former chief economist of the Department of Labor, the major limitation preventing their widespread adoption has been a lack of awareness of these programs compared to companies in Europe. Additionally, these programs are much more limited in scope and accessibility due to their lower compensation benefits and their varied work-hour requirements.

With expanded unemployment benefits set to expire by July 31, 2020, there is ample opportunity for discussion and bipartisan negotiation around creating a more sustainable and effective program that protects American jobs and helps people get back to work.
Ensuring affordable broadband access for every household has never been more important for those working and learning from home. Closing the gap in internet connectivity among American households by combining short-term and immediate local solutions with long-term funding to improve affordability is vital. To learn more about the digital divide facing us in the wake of the pandemic, as well as how we can go about solving this issue, policy analyst Zane Heflin had the opportunity to speak with the Executive Director of the National Digital Inclusion Alliance, Angela Siefer.
Angela has been working in the field we now call digital inclusion since 1997. She has helped physically set up computer labs in underserved areas, managed broadband conferences, conducted research, managed digital inclusion programs, assisted with the Department of Commerce's Broadband Adoption Toolkit, testified before a U.S. Senate Sub-Committee and more. In 2015, Angela helped found NDIA.
Interview Transcript
---

Angela Siefer: My name is Angela Siefer. I'm the executive director of the National Digital Inclusion Alliance. We're a 501(c)(3) nonprofit organization. We support digital inclusion programs around the country by helping them to talk to each other and learn from each other. At the same time, we use that learning to advocate for policies and resources that would help them to do their jobs and their jobs are to get folks connected to the Internet at home, make sure they have a device that meets their needs, a tablet or a computer, and the digital skills to use those things.
Zane Heflin: Great. The issue brief that I wrote talks about the Digital Divide. Could you just briefly explain in general terms what "the digital divide" represents?
AS: The digital divide represent the lack of connectivity and skills that, well, individuals and communities have. It is sometimes misunderstood to be an issue of availability of infrastructure, but just because infrastructure is available doesn't mean folks are using it. It is more helpful to look at it as a use issue: Are individuals and communities using the technology and the Internet, the tools that are out there, for their own purposes and for the betterment of their communities?
ZH: With the COVID-19 pandemic keeping everybody at home, working from home, studying at home, can you speak to how that has changed the way that we think about internet access and more specifically, how it ties into the digital divide that you're talking about?
AS: The work of those who have already been working on the digital divide is elevated now. In fact, I just got off a call of our community. We had about 50-some members on that call where we were kind of joking, kind of serious about the fact that we don't have to explain the why as much anymore. In the past, we were more having to explain why is it essential that everyone has access to the Internet and a computer and understands how to use it. That's not a common topic. It's more common now for those on the ground and for NDIA to jump right into, "Okay, let's talk solutions," because the problem is pretty crystal clear.
ZH: Right, right. Yeah, that makes a lot of sense. I think that's why we've taken an interest in it, because it's so clear now just how important that issue is. That's been the impetus for us to start writing about it and try and bring some more attention to it since this is the best opportunity, I'm sure that you can attest to, that people are really focused on it.
AS: Yeah. It's the issue of it, "Don't let a good crisis go to waste," kind of idea. If folks realize the importance now, boy, let's use that to not only solve short-term connectivity issues, but let's solve this long term.
ZH: I wanted to talk briefly about who needs help and why. You spoke to it earlier in explaining what the digital divide really means, but there's a lot of debate about what is the main cause of the digital divide. You talked about, "Oh, is it access?" Some people think that that's the issue. Some people think it's pricing. Some people think it's just whether or not they understand the use of the Internet and why it's valuable. Can you speak to what you think are some the main causes of the digital divide?
AS: It's all those things. A comprehensive solution has to get at all of those barriers. We need to get at the fact that we don't have infrastructure everywhere and no, satellite doesn't count, right? And mobile service is not enough. Those of us who can have both mobile and wireline, we do for a reason, right? It is your backup. It is your mobile. That's why you're with the cellular is that when you're at home, all the families are telling their kids, "Make sure you're not using your data on your phone," right? You make sure you're using the house's wifi. The availability is an issue, but then also, the cost is an issue. We know that in the United States from census data, 18 million US households, not individuals, but households do not have home internet. It's not because it's not available, right? 14 million of that 18 million are in urban areas. We have infrastructure in urban areas. There's something else going on. When you dig into the data, the lower household income, the less likely they are to have Internet at home. That is a big cost issue, but connected to the cost issue is the use issue of: Do you know how to use it? What are your digital skills? Privacy issues? Are you worried someone's going to steal all your information? Legit, right? We definitely need the digital literacy support and training that's available. It's not really available. I think it is helpful for folks to think through in your own environment, who you go to when you have a technical problem: Is there somebody in your family? Is there a friend? If you can't figure something out, who do you turn to? We all have those people. Sometimes, we are that person for family members. Then there are the individuals who will google something and turn into their more friends when there's a problem. If you don't have a network like that, what do you do? You just don't solve the problem. Then you're not using the technology because you couldn't solve the problem. We really have to get at where's that support network.
ZH: You spoke to one of the main issues being this divide between while urban households make up a large percentage of the people that aren't currently taking advantage of the internet services that might be available, but could you speak a little bit as well about what are some of the unique issues that are facing rural households versus urban households?
AS: Yeah, actually, I want to be careful that cost is an issue for both urban and rural. Rural has the added problem of it might be there and it's really expensive and they may only have one choice, right, and that's one of the reasons that's so expensive, then the added problem of in some areas, there could be nothing. That is not okay. Or there's something and it's incredibly slow, oh, and pricey, right? Rural has all of those issues in addition to not having a structure and resources for that tech support. Where do folks go for digital literacy training? Who are they turning to when they can't get something to work? Just because the density is less, so there is less of that. We have to figure out how to address that problem in urban and rural. The digital divide is not something that separates us, unfortunately. It is something. I mean, it is everywhere. You can't really even say it's only in one geographic area because anywhere where there's poverty and there's a lack of density, you have problems.
ZH: Yeah, absolutely. Well, with your kids at home, I'm curious, maybe they're already facing some of these issues, but I know students, for example, are having to deal with, studying from home, learning from home and taking advantage of some of these distance-learning tools and things like that and there's an expectation this will probably continue into the coming fall semester. In your opinion, what are some of the things that need to be done to support students that maybe don't have easy access to the Internet to make sure that they can succeed in the classroom?
AS: There's a growing understanding that school the next school year is not going to look like we all want it to look like, so that support does have to encompass all of the things that we've been talking about: Do they have a consistent internet connection that is reliable and it's fast enough speed? Do they have the right device? A mobile phone is not the right device. Some kids are really still doing their homework on a mobile phone because they do not have a computer or a tablet. Again, making sure it's the connectivity, it's the device, and it's that ongoing support. I talked to one of our affiliates today, who the term that they've been using to help the kids is "virtual mentor." They have virtual mentors that they're not teachers, they just talk kids through what it is that they're struggling with. It is sometimes about the schoolwork. Sometimes, it's about the technology itself. She alerted me to the issue of a lot of schools are using Google Classroom and the different users, if the family uses the same computer and one child is logged in into their Google account and then the next child that comes on doesn't log into their own account and is still using their sibling's account, the school will log them as not having participated. They are, they're doing the work, but they're not logging the hours of having done the work, which is kind of ridiculous in itself of, but that's a technical problem and that's something that someone who understands that could say, "Oh, let's make sure that you're logged in as yourself before we get started here." Having those people to be able to turn to, I think that's an aspect of this whole thing that has not really been discussed enough.
ZH: That's fascinating. Do you think that some of these tech companies like Google will need to integrate themselves and get into a closer discussion with some of these school districts that are taking advantage of things like Google Classroom to make sure that some of the design aspects are functioning and working towards helping them?
AS: Most certainly, but I also think the responsibility goes way beyond those who build the applications. In some of the communities who are recognizing the challenges and moving faster to solve those, they are doing that with community volunteers, with corporate volunteers. It's not even always paid staff, right? It is people who want to be helpful. It is like the role that you play with your dad, right? Being able to be that person who's like, "It's okay. I know you've not used Zoom before." My neighbor is a counselor, a marriage counselor. She realized she needed to move her marriage counseling online. She about lost mind because that's not her world, right? She had to figure out how to use Zoom and set it up appropriately and all the privacy concerns, but that's not her background. She had folks she was able to turn to. In fact, we did some consulting by yelling across the street one day in order for us, my son and I, to be able to help her. How do we make sure that that kind of support is available for everyone and recognizing it's not just our kids, right? Education is a big issue and it's a big issue, not just for K-12, but also for the college students. Then it's also an issue for everybody else, including those who thought they were going to maybe get through life without using technology and now, I think we're at a point of discussing, "Is there really a choice anymore?" We would like to think there's a choice, but in this age where it is safer for your own health and the health of your community if you don't go out as often, is it still a choice?
ZH: That's interesting. Yeah, speaking to the counselor, your neighbor, my sister's a counselor herself. She's had to move everything over to telehealth and doing that. She's actually a play therapist, so she has to work with kids, which makes it even tougher. You don't have a playroom in which to interact with the kids, so you're having to come up with some other ways to try and connect with them. I'm sure a lot of people are trying to deal with it in that same way.
AS: Oh, that's fascinating. It is a crazy challenge.
ZH: Yeah, absolutely. We mentioned Google Classroom and some of the things that tech companies can do to help out in this coronavirus pandemic and assist the students, but I know a lot of telecom companies have already tried to make some improvements to their internet service, increasing speeds, limiting data caps, that sort of thing, providing complimentary internet service to low-income individuals. Do you think some of these measures are sufficient to meet up to what is necessary and do you think telecom companies need to be doing more?
AS: I think the efforts to date are appreciated by lots. I know I appreciate them, NDIA appreciates them fully, but they are really insufficient. We cannot rely upon the charity of internet service providers for something that is so essential to everyone, which is that internet in your home. I don't want to diminish what they've done. It is really valuable, but at the same time, I think we have to critically look at who isn't covered by any of those free and low-cost offers. We have to look at the pledge that the FCC was asking providers to sign onto. That had to do with keeping service. That doesn't address those 18 million households that don't already have. It that's just for those of us who are fortunate enough to already have it. Yes, that's great, but it's missing this whole segment. After struggling with ourselves and with partners and community members, I don't see any way around a federal broadband subsidy, that that has to [inaudible 00:15:27] at the end of that. There is talk of one now. The House Democrats have suggested what they're calling an "Emergency Broadband Benefit," same thing as a broadband subsidy, but we're not getting enough bi-partisan discussion around it and that's really what we have to have because this is not a partisan issue. It should not be a partisan issue.
ZH: Right. That's exactly why, I mean, my own organization, The New Center, is supposed to be looking for those opportunities for, common sense bipartisan policy. This seems like a no brainer and why I think it was really natural for us to write about, but it is surprising to see that there is so much debate about something that should be relatively straightforward for, I think, both parties. I did want to ask you a little bit about that. With Congress, you mentioned there they're currently debating adding those broadband subsidies. I mean, obviously, that needs to be a priority, but are there some other, maybe two or three items that you think are really necessary to be included in a next relief bill to expand broadband?
AS: Sure, sure. The other one that we would ask to have included is the Digital Equity Act. That one there's already a bill in both the House and the Senate and that was pre-COVID days. We need to get back to that and look at it now during COVID days of what it is that that means now and what that bill got at was all of the three barriers that I mentioned and those solutions: the connectivity, the device, and the digital literacy support. In fact, the way we tend to talk about it now, we used to say that it was what we needed was "digital literacy classes and one-on-one support," but now, it's more like tech support so that you can get them to just be able to do enough to take an online class. It's both. It is the digital literacy, but it's also, gosh, can you even take any of those classes online? That's a big one. We look at the use of E-rate for schools and libraries to be able to extend their networks. Right now, E-rate, it's defined as "a subsidy that can be used in the building." That might be a school building or library building, but is that where and libraries provide their services now? It's not. Even in the fall, might be a little bit in the building and there's still going to be a lot at home. We have to figure out what the answer is. The vehicle, there could be various vehicles, right? It could be a vehicle that uses… In fact, the emergency broadband benefit uses the mechanisms of Lifeline. They don't call it "Lifeline" because that's politically fraught. Super. Let's not call it "Lifeline," but those mechanisms are there to be able to facilitate it. E-rate is the same thing: the mechanisms are there. If we created another way of doing it, and there is discussion of that, there's the idea of using a voucher, my perception is that it takes longer to stand that up. If the mechanisms don't already exist, we have to create the mechanisms, yes, for moving forward. For the emergency part of it, I know the crisis is elongating, but we're still in a crisis and we've got to figure out solutions really, really soon.
ZH: You mentioned the Lifeline program. A good portion of the solution, I think, lies somewhere in, if not by name, the Lifeline program, but something to the same effect. Could you speak a little bit about the Lifeline program in general, how you see it as a long-term solution, and maybe why you think that it has become this politically-charged issue?
AS: Yeah. Lifeline started out as a phone subsidy, started out as a wire-lined phone subsidy, right, your copper phone line to make sure everybody had that emergency service of having a phone in their home. Then it was widened to include mobile phones and then four or five years ago, it was widened, and then now it is supposed to be also for broadband. The reality, though, is that most of the Lifeline service available is a phone service, not a broadband service. The mobile phones have three gigs of data. I don't know if I'd call that "broadband." I call that "emergency data," right? It's three gig. You're not going to get real far with that. The structure is such that it could be used for a broadband subsidy. The Universal Service Administration, US, USAC has built a national verifier. Most of the states are participating. It's not perfect, but it's better than anything else we have to verify eligibility based upon benefits folks are already getting: SNAP, veterans benefits, housing benefits, right, all the ones you would expect to be there. That can be used to verify eligibility. The parts that would be left behind in this, in a broadband subsidy is the: Who are the service providers? With Lifeline, it is only what is called "ETCs," eligible telecommunications carriers, but it a broadband subsidy, that doesn't make sense. Why would we only limit it to the phone companies, cable companies? Why are the wireless providers that are particularly in the rural areas? We need to make sure that anybody who's providing broadband can participate because we just don't have enough to limit it. That's ridiculous. There's lots of challenges with Lifeline right now, but it is still really valuable, right? We can't throw the baby with the bathwater kind of idea. Some of the challenges we've had with lifeline have been with what often is referred to as "waste, fraud, and abuse." People who don't have service, the provider would claim that that person has service, but they don't have service, and then the provider is getting reimbursed for them. The inaccuracy of requesting the reimbursements, any of that would need to be figured out in a long-term broadband subsidy. An emergency broadband subsidy, the way the current version is written right now that's being proposed by Representative Veasey and the other House Democrats is that it's pretty open: The providers can decide on their own eligibility. I mean, not the eligibility, the eligibility's set, but they can prove the eligibility in their own way. They don't have to use the national verifier if they don't want to do. It is pretty much written to make it easier for the providers to participate, because it won't be mandatory. If it's not easy, they're not going to do it. It has to be easy for them to participate.It's also set up as a $50 subsidy towards an existing service, not asking for a new service to be created, which is what Lifeline is. You have specific services that are Lifeline services, whereas with the emergency broadband subsidy, it's more, whatever you got, as long as you can show us that you've advertised that price, take $50 off, the consumer pays the rest. If it was less than $50, say if it was $45, you're going to get reimbursed $45. As long as you show us that that's what you were charging prior, you're solid.
ZH: Yeah, I wasn't super familiar with that aspect in my research, but you did speak to something that I did see pop up time and time again. You spoke about "waste, fraud, and abuse." I think generally data about the scale of the issue seems to be a problem. What can we reliably use as a data set to identify what households really don't have this broadband access and which households do? Can you speak a little bit about maybe the challenges for your organization, NDIA, in trying to make sure that there's accurate data out there about exactly what the scale of the issue is?
AS: The problem with accuracy of data tends to be in terms of what broadband is available. The accuracy of data in terms of who's not subscribing, we mostly use census, the American Community Survey data. It is only the five-year data that we can use to get down into census tracks. Having that be more often, right, one-year data down the census tracks would be lovely. We don't have that type of data. That would be more helpful. I would clarify that the challenge with data has more to do with availability of the infrastructure, not use of the infrastructure. We generally don't complain about the census, American Community Survey, but we have lots of complaints about FCC's Form 477 availability data.
ZH: That's where I've seen most of the complaints directed. You mentioned that the use is one aspect of the data, but pricing is another that I've seen come up time and time again, that there isn't a whole lot of reliable data there.
AS: There's no data. The best we have is some of some entities that have gathered introductory rates from the providers mostly and some regular rates from the providers, but nobody has a total data set that's all regular rates, which means the data sets that are out there because they mix the introductory rates with some regular rates, how valuable is that? If somebody can only have that introductory rate for six months or 12 months, then your data is skewed.
ZH: Yeah, absolutely. I mean, would you imagine that the FCC would at some point be able to provide that pricing data or is this sort of a thing that, well, there's a lot of things that need to be addressed before we get there?
AS: I think I have been pleasantly surprised to see the focus on the need for privacy on pricing data. We had not seen that prior, really. That's all within the last year. NDIA has been calling for it for a couple of years now and we hadn't really seen movement. It's one of those situations where the crisis has definitely drawn attention. I think one of the ways that that happened was this sudden awareness that so many school kids in particular didn't have Internet in urban areas. There was really, I think, some folks, just A, hadn't thought about it ever, and B, the assumption that if it's an urban area, they don't have a problem with, which is why even still, we will see very well-meaning folks refer to the digital divide as a "rural problem," which is simply not accurate. What the crisis did is everyone was like, "Those kids don't have Internet? You're kidding me." Then they want a go at solving that.
ZH: Yeah. I mean, to that issue, you spoke about the E-rate program earlier and I know the sudden realization that, "Oh, hey, these urban students don't actually have access," we've seen a bunch of innovative, creative solutions from local school districts and communities such as wifi-enabled school buses and lending out mobile hotspots where available. Have you seen some local community, maybe creative solutions that you thought were particularly effective that should maybe be implemented further, maybe nationwide as opposed to maybe some communities or states?
AS: I think the wifi in parking lots and the wifi on school buses is creative and innovative, but it's also, it's an innovative BAND-AID. We can't expect kids to do their homework in a parking lot. We can't expect somebody to apply for jobs in parking lots, fill out their unemployment in parking lots. Even if you think about the process of applying for a job, you don't just apply for the job, then they call you and say, "Okay, you're all set." No, no, it doesn't work like that. They email you back. They want you to fill out another form. They email you back and they say that they need you to go get a drug test. There's this interaction which you're not getting because you already left the parking lot. The parking lot is unfortunately the best we can do in some rural areas right now because the infrastructure doesn't exist. In urban areas, it's ridiculous. I'm just going to say, it's totally unacceptable. In a place where the infrastructure exists, we have to make sure those folks have it in their homes. If the infrastructure doesn't exist, we need to build it out because again, it needs to be in their homes. I appreciate that folks are doing that, but I also don't want anyone to be like, "Well, we solved that problem. We've put it in the parking lot." Okay, you didn't really solve the problem. I think the other innovations that we're seeing are there's a lot of real talk now that I was not hearing before about maybe we should build around network. I think we're going to see, and I've started asking around, "Are you guys hearing this? Are you hearing this?" Yes, it is a thing now where communities that had never had those conversations, they're all of a sudden saying, "Maybe we should build our own network."
ZH: What are some of the challenges that you see with that particular idea of building your own network? Because I know I've seen particularly, I'm from the South and we have a couple of cities. I think Chattanooga created their own network and has been particularly successful in providing affordable Internet. What are some of the challenges you see to that sort of solution?
AS: One of the challenges is making sure that not only is there a competitive price point, to make sure that it is in fact lowering other prices of other providers to make it more affordable so that when we think about affordability, we think of market-rate affordability and then a subsidized service. A community-owned solution should also be thinking about market-rate affordability and a subsidized solution because certain populations, their incomes are so low that market rate's still not going to be acceptable for them. I don't know if I'd call it a "challenge," but I call it "Let's raise awareness." If you're going to build your own network, make sure you're not just building it for those who have funds to afford the service. Is it a public network that only serves certain incomes, right? We should really try to get at the issue of affordability also with these public networks.
ZH: Right, yeah. It ties back into it ends up becoming a short-term BAND-AID solution if it's not really helping the people that don't already have the ability to pay for it and access it. It has me thinking about some of the longterm new technologies that have been implemented. I know TV white space technology is something that I saw quite a bit. You mentioned earlier about satellite internet and maybe how that may not be as reliable as some people think, but there is quite a bit of, I guess, focus on, "Oh, well, Elon Musk is sending out thousands of satellites and this is going to provide internet for the future." What do you see as being some of the most promising long-term solutions in helping to bridge the digital divide?
AS: I guess I've been around long enough that I've seen lots of, "Oh, we're going to do Internet through electricity lines," "Oh, we're going to float balloons over every…" Okay, have any of those panned out? No. I'm not even seeing 5G for real yet. It's still being talked about. Until any of those solutions are real, we have to go with that which we know works and we have to future-proof it as much as we can. That really is fiber. In areas where the federal government has paid to upgrade networks, I'm kind of curious, haven't done the research. Should we go back and look at how much was spent? If we had just invested enough for fiber from the beginning, would we still be spending that much money? Are we relegating some rural areas to a lesser class service that will not allow them to, say, bring in large warehouse retail locations, right, bring in server farms, the things that tend to pull in more tax revenues and such. If we're not setting it up for success for the long term, we're just covering a short-term need, was that the best use of federal money, of government, any kind of subsidized, local/state/federal? In fact, it's fascinating that there are some places that did lay fiber, but they didn't know what they were doing it for, like somebody in that community thought it was a good idea 20 years ago and then those communities, time progresses and somebody realizes it's there and they're like, "Oh, my god, there's gold in the ground." That's what's happened in multiple communities and I find that to be completely fascinating. I'm sure whoever's idea it was 20 years ago, a bunch of people made fun of them.
ZH: Yeah, but now we're kicking ourselves for not doing it more, huh?
AS: That's right. That's right.
ZH: Thank you, Angela, for taking the time. I guess I have one more question for you, but it's generally just wrapping up. I'm just curious what your call to action would be in moving forward and trying to bridge the digital divide, what you see as the most important things in making sure that these BAND-AID fixes aren't the only focus, that we make sure that there is a long-term solution in mind and what we can best do to try and move towards that solution?
AS: The solutions right now that we're seeing are all local. The innovation is local, the community is coming together to make sure that people have computers. There are communities paying for their first Internet, right? There are communities solving this right now as much as they can, but they're doing it in a way where they don't have support from the federal government, so the next step we need is to support those local efforts. That is making sure we understand what's going on in those localities, how it is that they're solving these problems, what they need from us. It's not ignoring any of the barriers, right? It is the home connectivity, not a parking lot, the right device, tablet or computer, not a mobile phone, and it is that digital literacy and tech support. We can't leave one of those three out. We have to make sure we're doing all of them.
ZH: Great. Well, thank you so much, Angela, again, for taking the time to speak with me. I know I went a lot just in our conversation and I'm sure a lot of people that will listen to the podcast will learn a lot, too, but I'll be sure to share that with you and the issue brief that we have coming out next week. Thank you so much.
AS: Yeah. I'm excited that you're doing it. Thank you, Zane. It's very much appreciated. Have a good weekend.
ZH: You too. Bye.
In the wake of America's lethal strike on Iranian general Qassem Soleimani, the debate over presidential war powers is once again front and center. This week, the U.S. House of Representatives passed a resolution, largely along party lines, to curb President Trump's authority to order military strikes on Iran.
Below, The New Center offers a primer on the legal underpinnings of the executive's use of military force.
The War Powers Act
The War Powers Act of 1973 is a federal law intended to check the U.S. president's power to commit the United States to an armed conflict without the consent of Congress. The law states that the president can send U.S. Armed Forces into action abroad only by declaration of war by Congress, "statutory authorization," or in case of "a national emergency created by attack upon the United States, its territories or possessions, or its armed forces."
The War Powers Act requires the president to notify Congress within 48 hours of committing armed forces to military action and forbids armed forces from remaining for more than 60 days, with a further 30-day withdrawal period, without congressional authorization for the use of military force (AUMF) or a declaration of war by the United States.
A major issue with the War Powers Act is its vague definition of war or conflict, which is characterized as "the introduction of U.S. Armed Forces" in the legislation. This definition requires that "there exists an imminent threat that such [U.S. armed] forces will become engaged, in hostilities." This vague definition has allowed for a loose interpretation of the law when it comes to the deployment of drone strikes, strategic bombing, and other uses of military force that do not immediately risk further hostile engagement between U.S. troops and foreign military forces.
Historical Background
U.S. military forces had been involved in intense conflict in both the Korean and Vietnam wars without there being an official declaration of war. During this time, members of Congress became concerned with the erosion of congressional authority to decide when the United States should become involved in a war. The War Powers Clause of the U.S. Constitution gives Congress the power to declare war, but no armed conflict since World War II has received a formal declaration of war. Congress was eventually spurred to action when President Nixon was found to have conducted secret bombings of Cambodia during the Vietnam War without notifying Congress.
The War Powers Act was passed by both the House of Representatives and Senate but was then vetoed by President Richard Nixon. By a two-thirds vote in each chamber, Congress overrode the veto and enacted the joint resolution into law on November 7, 1973.
President Ronald Reagan and President George H.W. Bush would later begrudgingly recognize the congressional authority provided by the War Powers Act, despite their shared belief that the president should hold complete authority over the use of armed forces. President Reagan reached a compromise resolution with Congress for the continued deployment of U.S. Marines in Lebanon for an additional 18 months during the Lebanese Civil War in 1983. President George H.W. Bush reached a compromise resolution with Congress in the leadup to the deployment of armed forces in the Gulf War in 1991. While President Reagan and President H.W. Bush respected the War Powers Act, the constitutionality of the law would be called into question by following presidential administrations.

Kosovo and Libya Case Study
In 1999, during Operation Noble Anvil, President Bill Clinton approved of a joint operation with NATO to conduct a bombing campaign in Kosovo. This bombing campaign continued for more than two weeks after the 60-day deadline had passed for authorization under the War Powers Resolution. Having obtained some funding for the bombing campaign from an emergency appropriations bill passed by Congress, the Clinton administration argued that they had implicit authorization to continue the bombing campaign. President Clinton's actions in the bombing campaign of Kosovo were eventually challenged in D.C.'s District Court by members of Congress for violating the War Powers Act, but the court found that Congress lacked standing to sue the President and instead must rely on their legislative authority. Additionally, since air forces were withdrawn from the region 12 days prior to the 90-day required deadline, the Clinton administration was found to have complied with the War Powers Act.

During Operation Odyssey Dawn, the Obama administration conducted military operations in Libya in 2011 past the 60-day statutory limit on unauthorized military actions. Similar to the bombing campaign in Kosovo, Obama administration made legal arguments justifying and authorizing continued military operations in Libya without Congressional approval, stating that there was no "hostility" in Libya and that the military operations were limited in scope rather than targeting regime change.

War Powers Act in Yemen and Iran
More recently, in an effort to invoke the War Powers Act to end U.S. support of the ongoing Saudi-led military intervention in Yemen, Senator Bernie Sanders introduced a bill in 2018 which was approved in both houses of Congress. (Approved in the Senate by a vote of 54 to 46 and in the House of Representatives by a vote of 247-175) However, President Trump vetoed the bill on April 16, 2019, and the Senate failed to reach a two-thirds majority necessary to override the veto.

On January 3, 2020, missiles shot from an American drone killed Qassem Soleimani, an Iranian Major General of the Islamic Revolutionary Guard Corps (IRGC), a branch of the Iranian armed forces, and Abu Mahdi al-Muhandis, an Iraqi military commander of the Kataib Hezbollah, an Iraqi Shia paramilitary group supported by Iran. President Trump met the 48-hour deadline to notify Congress of the drone strike, but the document is classified and no version has yet been released to the public.

The Trump administration has argued that the drone strike was justified because it both thwarted an imminent attack and was carried out in accordance with the Authorization for Use of Military Force Against Terrorists (2001 AUMF), a resolution passed in 2001 that gave the President the authority to use military force against those determined to have planned, authorized, committed, or aided the 9/11 attacks. Since the IRGC was designated a terrorist organization by the Trump administration in 2019, and as argued by Vice President Mike Pence, Iran helped transport some of the al Qaeda hijackers responsible for the 9/11 terrorist attacks, the Trump administration believes the 2001 AUMF justifies the strike.

Democrats in the House of Representatives disagree, as evidenced by their vote to curb Trump's war making powers this week. But the House resolution is not binding and is unlikely to pass in the Senate.

In the days since the strike on Solemani, members of Congress on both sides of the aisle have also been pressing the Trump administration for more evidence that Soleimani was indeed planning "imminent" attacks.

Therefore, the debate over presidential war powers won't be resolved anytime soon and could emerge as a key issue in the 2020 presidential campaign.

Last Wednesday, The New York Times reported that Facebook expects a $3-5 billion fine from the Federal Trade Commission (FTC) for violations of a 2011 consent agreement that required Facebook to obtain consent from users before it shared their data with third parties. The FTC likely views the Cambridge Analytica scandal as a breach of the consent agreement. Facebook also likely violated its consent agreement when it gave certain partner companies special access to user data without obtaining explicit consent, as detailed by another New York Times investigation last December.
This would represent the most significant punitive action the FTC has ever taken against a tech company. It is an encouraging sign that the FTC is willing to hold huge companies like Facebook accountable for their business practices, something it's been criticized for failing to do in the past.
But given the fact that Facebook had almost $56 billion in revenue in 2018 alone, a $5 billion fine for ethically questionable but highly lucrative data sharing arrangements could simply be viewed as the cost of doing business, rather than as an effective deterrent against such activity.
Fines also cannot address many of the structural challenges of regulating data privacy. As of now, the U.S. lacks a concrete definition of what a data privacy violation even is. Per FTC v. Wyndham Worldwide Corporation, the FTC is allowed to regulate improper data security as an unfair business practice. However, the burden of proof for an unfair business practice is very high; if tech companies begin challenging and overturning FTC rulings in court, it could set a legal precedent that protects some of the questionable privacy practices we see now.
Rather than relying on a case-by-case system of adjudication, the U.S. needs a national data privacy law that outlines specific rights that users have over their data and imposes firm requirements of transparency and accountability from companies that collect, share, and process user data. Such a bill would not only facilitate the FTC's regulatory efforts, but it would also simplify requirements for private companies by enacting one single standard to supplant the complicated, state-by-state legal landscape they currently operate in.
Evan Burke is a former policy analyst for The New Center, which aims to establish the intellectual basis for a viable political center in today's America.
On March 11th, President Trump released his 2020 budget proposal. This first step in the budget process lays out the basic framework for government spending, which can then be adjusted or amended by Congress. However, as we explain below, President Trump's budget proposal – like that of most recent presidents – is essentially a political document. It's more of a wish list and framework for his 2020 campaign than it is a blueprint for how and where Washington will spend taxpayer dollars in the year ahead.
House Speaker Nancy Pelosi made it clear that the budget proposal was dead on arrival by saying, "The cruel and shortsighted cuts in President Trump's budget request are a roadmap to a sicker, weaker America. House Democrats will reject this toxic, destructive budget request which would hollow out our national strength and fail to meet the needs of the American people."
Changes in funding that are unpopular among Democrats include:
Cutting $845 billion over the next decade from Medicare and $241 billion from Medicaid
Steep cuts in agency spending including reductions of $8.8 billion from the Education Department, $12.4 billion from the Department of Health and Human Services, $8.6 billion from the Department of Housing and Urban Development, and $12.5 billion from the State Department and USAID.
Here, the New Center outlines President Trump's budget request and explains why it's going nowhere—fast. 
THE TRUMP BUDGET
President Trump's 2020 budget broadly aims to "end wasteful spending" and "expand economic growth and opportunity." The $4.75 trillion budget, the largest in federal history, simultaneously makes sharp cuts to domestic programs and relies on previous tax cuts to spur growth.  
The president's budget request emphasizes ten pillars of reform that are consistent with his administration's priorities since taking office:
Preserving Peace Through Strength 
Increase the Defense budget by more than $33 billion to a total of $718.3 billion
Increase the size of the Armed Forces
Give a 3.1% pay-raise to service members
Modernize the American nuclear arsenal, create a U.S. Space Force, invest in new weapons technologies
Building the Wall 
Provide an additional $8.6 billion for construction of a wall on the southern border with Mexico
Increase the number of ICE officers and border patrol agents
Increase the number of immigration jails and detention beds
Rebuilding Infrastructure 
Provide $100 billion worth of incentive grants to encourage infrastructure investment
$50 billion for investment in rural infrastructure with a focus on broadband internet service
Streamline permits by eliminating redundant agency reviews
Supporting American Working Families 
Use $750 million for paid parental leave program
Use $1 billion to create a fund to help underserved populations and encourage investment in child care
Protecting Our Veterans 
Increase the Department of Veterans Affairs budget by $6.8 billion to a total of $97 billion
Increase spending on medical care for veterans and make private doctors easier for veterans to access
Add mental health services for suicide prevention
Expand medical services to female veterans
Combatting Opioid Addiction 
Provide $5 billion to the Department of Health and Human Services over five years to increase access to overdose reversal drugs, treatment, and recovery support services for opioid addicts
Expand coverage under Medicaid of medication-assisted treatment options
Provide $2.2 billion to the DEA to enhance efforts targeting illicit drug trafficking
Fighting High Medical Drug Prices 
Create a Medicaid demonstration authority to negotiate drug prices directly with manufacturers
Reduce costs for seniors with reform of Medicare's Part D drug benefit
Incentivize more competition among generic drug manufacturers with FDA changes, and update study analyzing drug prices paid in other developed countries
Moving from Welfare to Work 
Create mandatory work requirements for welfare assistance
Cut $220 billion from the Supplemental Nutrition Assistance Program and use food box delivery instead of cash benefits
Give states ability to propose Welfare to Work projects to receive funding
More Pathways to Affordable Education and Well-Paying Jobs 
Promote formal apprenticeships with an evidence-based system to "earn while they learn"
Investments in STEM education in K-12 schools
Support career and technical education in high schools and postsecondary institutions
Promoting School Choice 
Give parents the choice of public, private, charter, magnet, religious, or home school options for their children
THE BROKEN BUDGET PROCESS 
How is the federal government actually meant to create a budget?
The president submits a budget request to Congress
The House and Senate pass budget resolutions that are supposed to set overall spending levels for different parts of the government
House and Senate Appropriations subcommittees "markup" the appropriations bills that actually authorize the spending for various government agencies
The House and Senate vote on appropriations bills and reconcile differences
The president signs each appropriations bill and the budget becomes law
This is how it is supposed to work. But it almost never does. 
1996 was the last time that Congress managed to complete all of its spending bills before the government's new fiscal year started on October 1st. The budget process has become a vehicle for partisan gamesmanship where members of Congress can host their political disagreements.
Although the president's budget request is meant to inform the House and Senate budget resolutions, it does not have to. Presidential and congressional budget proposals have often conflicted in recent years. House Democrats may not even bother to issue a budget resolution in 2019.
If the budget process is not completed before the end of the fiscal year – and it almost certainly won't be – Congress may pass a continuing resolution so that agencies continue to receive funding until the full budget is in place.  A continuing resolution provides temporary funding for federal agencies until the new budgeting bills become law. These resolutions are short-term fixes that keep the government open, but allow Congress to punt on the larger budget debate until another day. Committees often draft continuing resolutions by slightly increasing a program or agency's funding from the previous year.
If Congress does not pass a budget or continuing resolution in time, a government shutdown ensues.
Zane Heflin is a policy analyst for The New Center, which aims to establish the intellectual basis for a viable political center in today's America.